Recently we have:
Delivered hours of

online communications training and virtual crisis simulations including one for a transport client with participants taking part in French and English, across multiple locations. We have  several more planned for next month –

we've also put together

12 Helpful Tips

based on our experiences

Written a detailed

guide to Facebook Live
Put together a visual guide to mapping online audiences.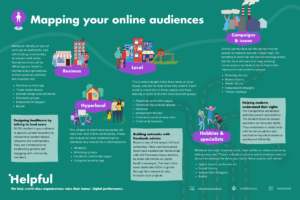 Had some lovely feedback:
Just wanted to say again how amazing it's been having the support from you and your team – don't know how we'd have got through the last few months without it.
We've been busy reading too, here are a selection of some of the articles we've enjoyed and wanted to share with you all.
Starting with some practical icebreakers, a useful read for anyone running online meetings and training sessions.
Social Media Landscape
The social media landscape is constantly evolving with a new milestone last month – for the first time more than half of the world's total population now uses social media. We are social and Hootsuite regularly round up the latest global social media stats and it's really interesting reading. 
For UK specific statistics, Ofcom's online nation report is a treasure trove of insight into behaviour online and how it is changing. The latest includes this headline: smartphones are driving UK internet use to an all-time high,  over four-fifths of time online is on mobile devices as take-up of connected devices grows – make sure you factor this into your online content and social media updates. 
In the US Pew Research publish a range of fascinating data on social media usage and trends, this report focuses on social media use by politicians. 
Social Media Today recently published this overview of the most popular social media platforms worldwide – again does this fit with your social media strategy? 
Channels, functions and audience
It's really important to match your social media activity to your target audience.  Emmanuel Macron recently launched his TikTok account on Bac results day, TikTok's biggest user group is teenagers so this was a perfect time to try out the platform.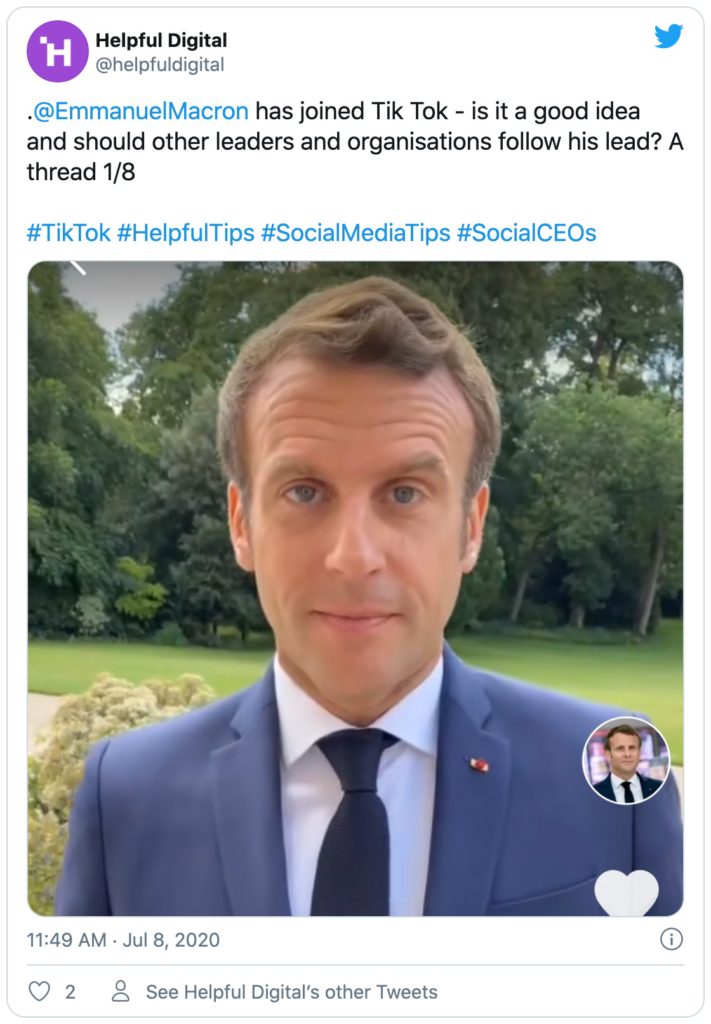 When there's breaking news, Twitter is likely to be where it is talked about first. They are testing ways to simplify finding information during disasters.
To showcase their own functionality, Twitter also put their entire investor report as a thread and it's quite long. 
BCW have published their Twiplomacy 2020 report into how world leaders have tweeted about coronavirus. 
But beware of trolls, this is essential reading for social media managers. It's easier than you think to be lured into trolls' games. 
A big shoutout to everyone who has been managing social media channels over the last few months. We recognise how difficult it has been. For anyone having a tough time as a social media manager at the moment, this post will resonate.   We've got some practical tips about managing an extended crisis which might also help. 
Social Media News
Facebook has introduced new accessibility options. 
They have also done more work to combat myths around Covid-19.
Donald Trump Jr had his account suspended by Twitter as part of their efforts to fight coronavirus misinformation. 
Adobe has released more details on its Content Authenticity Initiative
This piece about the implications of different types of fake content shows just how dangerous it can be. Earlier this year we worked on a project in Canada in February about the market-moving implications of fake or malicious financial analysis information, and we think we'll see more of this – beyond just deepfake videos.
Good Digital Communications 
RAF Lossiemouth change their Twitter logo depending on the alert level: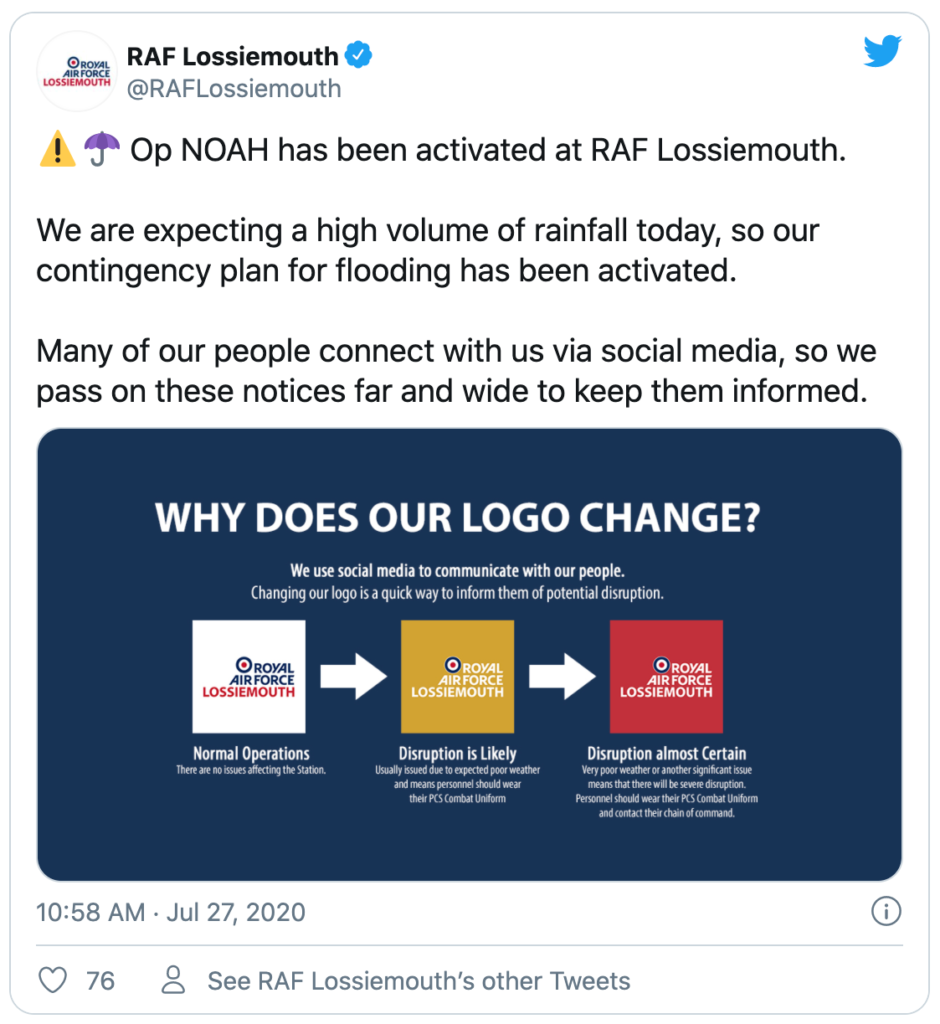 We loved this from Qantas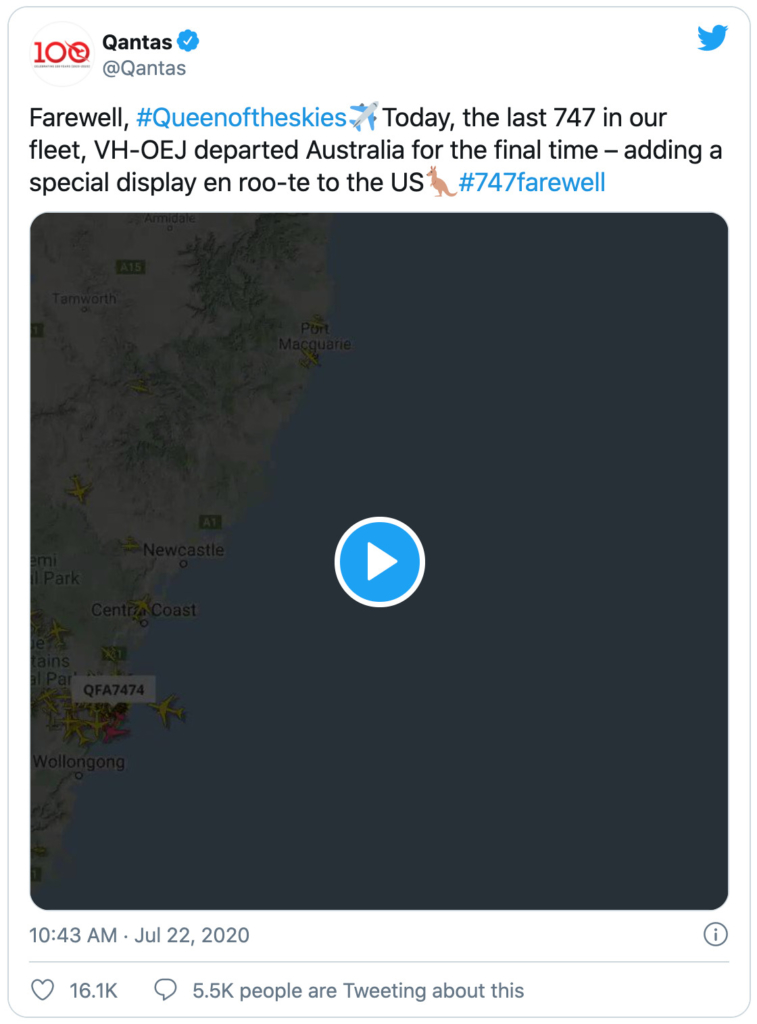 The Welsh Government uses Facebook Live to broadcast their Covid-10 press releases and updates from the First Minister. To ensure accessibility they have a sign language interpreter and also make use of Faebook's ability to auto subtitle Live video. 
There's more tips on using Facebook Live in our recent blog. 
Helpful news and updates
Some of our team are now back working in the office, socially distanced of course. We're busy planning and delivering training and crisis simulations, but do have capacity for helping more organisations to review their crisis response and plan ahead for future issues. 
Get early access to our briefings, updates and product news when you sign up to our emails via this link. You'll receive a copy of our guide to Twitter's new reply functionality when you register. We'll only send emails when we have something useful to send you.