Crisis90 brings scenarios to life and puts the emphasis on training, discussion and learning from each other. It's a great starting point for larger groups or people new to handling crisis or challenging customer care situations.
Sessions are split into phases, with the scenario brought to life as a range of social media posts, news stories, videos or emails within our secure, browser-based workshop platform.
Each phase has a clear 'task' which participants are required to complete in their teams against the clock, from scenario planning to message drafting.
As teams submit their answers, the facilitator replays the submissions to the whole group and leads a discussion on the different approaches taken.
"The key is in the IT infrastructure behind the live exercise. That was very impressive and has been missing from every other workshop of that kind I've done" - Sports & Events Manager
Customer care
For those on the front line, Crisis90 is an opportunity to learn and practice how to handle challenging customer interactions. Agree when to escalate or block, debate strategies for using humour or personality and build relationships with colleagues.
Corporate communication
Look ahead and rehearse future comms challenges or wargame your response to stakeholder pushback on a campaign or issue. Train media, digital and customer teams on the same scenario together, to help everyone understand roles, protocols and tactics better.
Crisis preparedness
Train the team on your crisis plan and templates. Work through an escalating issue together and compare-and-contrast different approaches to strategy, messaging and engagement. Roll out crisis programs across multiple teams or regions based on core scenarios which are quickly localised to each team.
"It was great to attend the workshop online as the scenario happened online and it gave us the opportunity to adapt to working in a digital team" - Business School
Make learning a memorable experience
Crisis90 adds realism and interactivity to learning about social customer care or crisis management. It's a guided experience which lets participants apply the theory they've learnt to the processes you have in place, in the context of lifelike media, operational and social media injects. It gets people talking, thinking and debating approaches under pressure.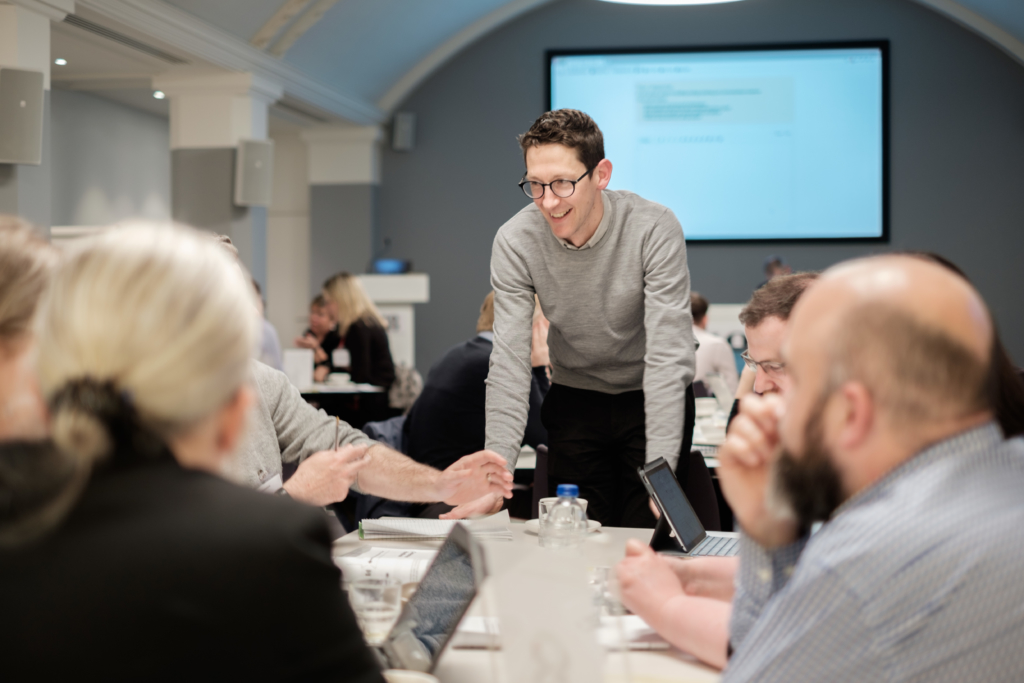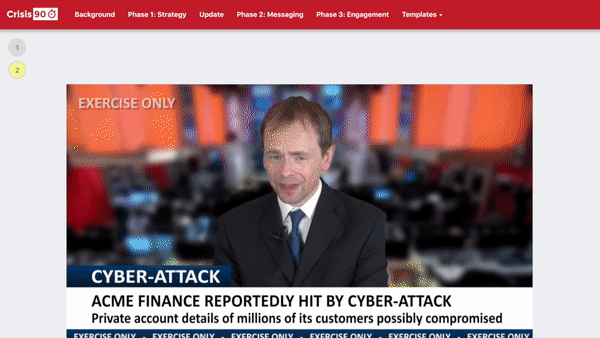 Work together as virtual or co-located teams
Bring teams together whether they're two feet or two timezones away from each other. Crisis90 works as well over group video call as it does in a meeting room. Team members can type together in realtime, fill in live templates or upload videos or photos from wherever they are. Our Google Docs-style editing lets team members work on statements and strategies while they discuss over your video collaboration tool of choice.
Compare and contrast approaches
The facilitator introduces the scenario and sets teams tasks to discuss and complete. Bringing the group back together, comparing the different approaches taken sparks lively discussion and practical learning.
Build understanding and teamwork
Working through a scenario together with colleagues from other teams or specialisms builds teamwork, respect and mutual understanding. That's why Crisis90 is a popular choice for awaydays and off-sites looking for something to build confidence and lift energy levels.
Work through strategy and tactics
People around the world use Crisis90 to learn crisis frameworks, practice media relations and hone their social community management skills. Get the team to step back and consider the big picture, or dive deep into tweets and social posts.
Video, social and email scenarios
Spreadsheets too boring? Powerpoint mockups too laborious? Crisis90 is built to bring scenarios to life easily. Build storylines which blend email, chat threads, news articles, petitions, voicemails, influencer videos, Facebook comments, tweets and more.
Train teams on your processes and templates
Crisis90 makes it seamless to switch between a scenario, online crisis template or physical wallchart. Facilitators can bring up good practice examples to compare with the teams' answers. Crisis90 works great as the practical element of longer training sessions.
Localise content easily
Built for scalability, Crisis90 scenarios let you use placeholders to localise scenarios. You can roll out training across different teams, brands, or regions and make each scenario feel just right for the participants.
"Hands-on is the best way to learn and allows us to put teachings into practice" - Global Energy Company
How could we help you?
We're happy to set up a demo to show you how Crisis90 works and talk through how it can bring training to life: email [email protected]