Why use Facebook Live?
Facebook Live is a good way to engage your audience and create a real conversation with your followers. Live broadcasts are a great option to deliver your message in a more authentic format and it's perfect if you want to do a Q&A. Organisations have been using live video during lockdown to replace face-to-face events, press conferences, staff briefings, and to support education. 
Nearly 50,000 people were interested in a Facebook Live on the Great Fire of London organised by the Museum of London. Live video helps increase your visibility too as it is favoured by Facebook's algorithm.
So how do you go live on Facebook?
It is really simple. You need a phone, a nice background, and… yourself!
Go to the page or the group you want your Live video to be broadcast via and tap the Live button either above or at the bottom of the create post box. Just like that you can start broadcasting your video and have it appear in people's news feed.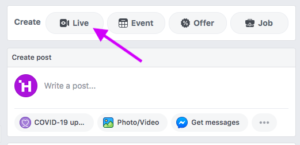 What controls do I have on Facebook Live?
If you want to go live as an individual you can decide who is going to be able to see the video: it can be private, public, or only for people in the group you're posting to. As a page you can restrict the location and also set a minimum age for viewers of your live.
The "Live Producer" interface is where you can choose the above options and more. You are able to select if you want to only use your camera (phone or computer) or if you want to use a streaming software AND your camera. What it means is that if you use a streaming software like OBS you will be able to customise the video, show pictures, show your screen or other fun stuff that you could not do only with your camera. It also guarantees a better quality video. If you want to do that, go to your streaming software, select "Use Stream Key" in your Facebook Live Producer and copy the key to your streaming software.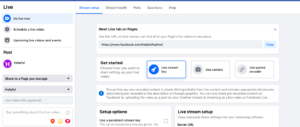 Once you figure out the technical side of it, you can get into the content and promotion.
How do I schedule a Facebook Live?
You can schedule a Live video on Facebook via the Live Producer options.  When you schedule the Live, Facebook will automatically create an announcement post to let your followers know a Live video is upcoming. People who see this post can click "Get Reminder" and not miss your Live. This should increase the number of people who see your video. You can also encourage people to ask questions in the discussion section in advance to help shape your content.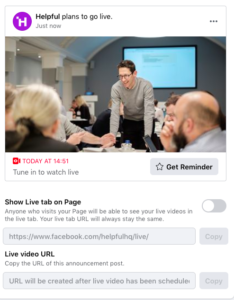 You can choose who comments and interacts with you during the video. A drop-down menu lets you apply settings to easily manage comments. You can choose to only allow followers to comment or have a 10 seconds limit between each comment for instance. Facebook also offers auto-generated captions if you choose to turn them on.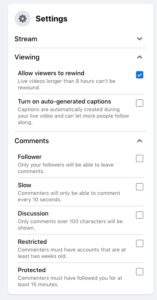 How do I add multiple participants on a Facebook Live?
If you want to interview someone or to have a panel discussion on your Facebook Live, you can do it via Zoom and broadcast live on your Facebook page. For this, you'll need to go to your Zoom settings and click on "Allow live streaming meetings" then select Facebook. Then if you select "more" you can go live on Facebook. 
Once your Live is over, you just tap on the button to end the Live and you can then publish the video on your page so anyone who wants to watch it again or wasn't able to catch it live can see a replay. 
Five checks before you go live
Is there anything distracting in the background – people, objects or noise?

Is your camera stable? Use a tripod if you can 

Is your subject clearly visible, are they wearing appropriate clothing and well-lit?

Is your WiFi connection good enough to support a Live video?

Have you got a suitable opening line prepared to get your Live off to a good start and keep people watching?
Five examples of good Facebook Lives
Lots of Pages have been going Live during lockdown, here are a few examples we've spotted from a range of organisations:
Action on Hearing Loss produce a lot of video content for their Facebook Page. They also make a fully captioned and BSL translated video of their Live events available.
The Welsh Government uses Facebook Live to share their daily press conferences and also include sign language and auto-generated subtitles to make them accessible.
Calderdale Council used Zoom to share a panel discussion via Facebook Live.
The National History Museum in London goes live several times a week every week during lockdown. They either invite scientists and researchers for Live Talk on a given topic (that we strongly recommend if you want to learn everything about volcanoes or butterflies!) or provide fun activities such as drawing lessons.
ExxonMobil Beaumont have been running STEM sessions for kids.
If you have any questions about Facebook Live or other digital communications please get in touch.