Recently we have:
Helped Western Power Distribution plan, iterate and promote their 5 year  business plan consultation 

Completed a major social media review for a UK regulator

Delivered a crisis simulation for a major US financial institution

Started the search for a Platform Manager
Updated our guide to scheduling social media posts

Shared a quick guide to carousel tweets
How do you make carousel posts on Twitter?
Go to Twitter ads
Then Creatives
Then Tweet Composer
You don't need to pay to promote the tweet
Simply schedule from Twitter ads – like this one #HelpfulTips

— Helpful Digital (@helpfuldigital) March 30, 2021
Our latest round up of Helpful Links follows:
Crisis Communications / Misinformation
Account hacking can affect anyone from a university cat to a senior NHS manager, make sure your accounts are as secure as they can be. 
The BBC Trust in News conference brought together senior journalists, and highlights of many of the sessions are available on the Beyond Fake News site.

Extinction Rebellion are making use of LinkedIn detailed ad targeting options to get their message to ex-employees from climate-damaging companies and asking them to Whistleblow for the Planet.
Social Media News
Hootsuite have analysed the best times for their accounts to publish posts to their social media channels, and have tips on when might work best for your accounts. We also recommend testing and evaluating what works best for your accounts. 
The Gov Lab published this fascinating research about the power of Facebook groups 
Dan Slee has summarised more learning from the report on his blog. He finishes by saying "Online communities like Facebook groups are places communicators need to know about and invest time in."  We couldn't agree more and we've previously blogged about five ways you can work with Facebook groups and we're always happy to help with any questions you have.
The new Instagram Lite app could boost take up in emerging markets. 
Good Communications
How Joe Biden team tamed MAGA Internet
How the digital culture and environment of charities has evolved over the last 20 years: 
The NHS is using Snapchat to boost organ donation. 
Nice work from Network Rail: some fairly simple timelapse video and overlay text, shared with an 'influencer' to post natively on their own profile.
And finally, we have started our annual Easter Egg Hunt, this year's is a COVID-secure asynchronous edition!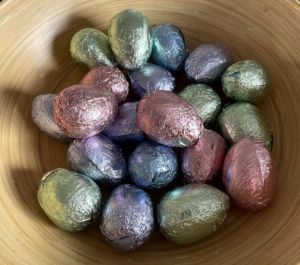 If you have any questions about any of these links or anything else digital please get in touch, we love to help.