Listening is an important skill to have, not just in face-to-face conversations but on social media too. 
Listening is often how you'll first hear about potential crisis situations that need addressing. It's also how you know you're reaching the right audiences and provides opportunities for positive conversations and engagement. 
You might be using a tool such as Hootsuite or SproutSocial to provide advanced social listening and that's a great place to start, but here are some simple tips on how to listen well and turn listening into action. 
Listen beyond notifications
Good digital search skills are vital. It isn't enough to rely on notifications for comments made directly to your social media accounts. You need to be proactively searching for posts that mention your organisation but don't tag your handle. If you don't, you might miss key conversations and lose the opportunity to reply, correct, or take conversations offline to be resolved.
Listen to more than Twitter
Twitter is often the main focus of social listening thanks to it being easy to search and monitor conversations. However, not all of your audience or the people talking about you are going to be on Twitter. Are you looking out for mentions on Instagram, TikTok, YouTube or LinkedIn? Don't forget about Facebook groups or forums such as Reddit and Mumsnet. Trouble can be stirred up and spread quickly on these channels if not spotted and addressed. They can also be places where positive content is often missed. 
We love Tabasco and Red's Hot sauce for capitalising on this TikTok user's hot sauce story and creating a fun social media campaign, thanks to some monitoring and a creative idea
Listen for every keyword, including the misspelt ones
Good listening means having an extensive list of keywords to be searching for. As we said above, people aren't always going to be tagging your account in posts. They might not even mention your organisation at all but might be talking about topics related to you. Compile a list of all keywords and hashtags you think will be useful to keep an eye on. This is a great team activity. Don't forget to also include misspellings of these words as well as common/slang names and acronyms, not just formal names. When Tier 4 Covid-19 restrictions were announced in the UK in December 2020, both Tier 4 and Teir 4 were trending. Only monitoring the correct spelling would have missed a large section of conversations happening online.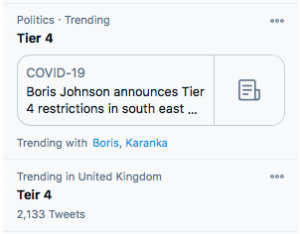 Listen to what's not being said
Sometimes what's not being talked about is just as important as what is. Maybe the lack of discussion means more work needs to be done to promote that topic or maybe you're listening to the wrong channel and your audience is somewhere else. 
Every channel also has bias and quirks that you need to be aware of. Campaign groups and top commenters might have agendas that need to be taken into account. Different demographics will have different priorities and 'influencers' might be getting a lot of attention, but just because their voice might be louder, doesn't mean they should be given more consideration than your target audience.
Listen then action it
Listening is only half of the equation. Once you've gathered information from monitoring conversations and keywords you then need to do something with it. The actions you take will depend on the content you're monitoring but here are just a few avenues you might take:
Escalate it
Serious conversations might need to be escalated up the chain for a response to be decided or you may need advice from someone with specific knowledge of the topic in order to handle the situation correctly.
Report it
Interesting conversations should be collected to be included in social media reports. You can use them as justification for social campaigns, paid advertising or changing your social media strategy.
Communicate it
Internal communication is just as important as external communication. Keeping staff and stakeholders informed of what is happening online helps to avoid miscommunication. Issues often escalate when those stakeholders step into the conversation without the right knowledge to hand.
Not sure where to start with your social listening? 
Download our social listening planner to get you started.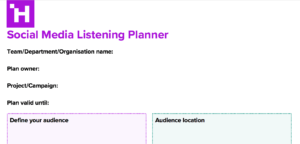 Looking for support with your social listening?
We help organisations understand where their audiences are, how to listen to them and how to put that listening into action. Get in touch with us to find out how we can help by clicking the link below.
Email us