Lockdown and social distancing has forced everyone to get smarter with remote working tools.
But I think we've all sat through enough passive webinars and back-to-back team calls by this point to recognise that it's not a trivial challenge to make digital learning and training engaging and practical in remote mode.
In a meeting room, you can work in teams around whiteboards and wallcharts to share ideas and complete exercise tasks. You can sit around a laptop to wordsmith a holding statement, and come together in plenary sessions to debrief on lessons learned. Doing that well remotely takes more than just a Zoom call.
So we've spent the last couple of months upping our game, iterating our Crisis90 workshop platform to make it a seamless environment for training whether you're two metres or two timezones away from your fellow trainees.
What's Crisis90 anyway?
Crisis90 is a workshop platform that brings challenging customer care or crisis situations to life for teams from a range of backgrounds. It challenges the group to put theory into practice and develop handling strategies, messaging, social media responses and scenario plans under time pressure. Each phase of the scenario is brought to life through emails, social media threads, videos or media reports, with a task for the group to complete and compare with their colleagues in other teams.
Live collaborative writing
Crafting a strong press statement or internal comms message takes finesse and discussion, so we've incorporated Google Docs-style live collaboration into Crisis90. Participants joining a session remotely are assigned to teams, and put into a breakout room or channel by the facilitator to prepare their response to a task. Members of the team can discuss their approach over video call while working on the text live in their browser together. When they're done, they submit their response and the facilitator brings the group back together to learn from each other's approaches.
Document, image and video tasks
A good crisis response increasingly involves the ability to produce clear, authoritative video and image content for your digital channels. As teams get more sophisticated, we've added more options to the tasks that they can be asked to complete in each phase of a scenario. Writing a holding statement is fine – but how about you film your team's spokesperson and upload the clip to compare with other spokespeople?
Templates and context
Many of our clients have established templates and frameworks they use to manage an incident or customer service situation, and want to train groups on them. We've added the flexibility to get teams collaborating on live versions of simple frameworks via online documents, so they can switch from scenario to template as easily as they would if they were standing around a wallchart in a training room together:
Integrated quizzes and feedback
We're all having to get smarter at juggling links to different collaboration tools but a smooth online experience minimises the inevitable window switching.
The best online learning experiences don't just translate a half day workshop into a video call. Keeping people focussed and energised involves shorter, sharper sessions – but with an online experience comes a lot more scope for pre-workshop learning and post-workshop follow-up.
We've been extending Crisis90 for some clients to include elements like pre-workshop quizzes or research tasks, and integrating feedback requests into the experience in different ways to help facilitators pitch the sessions right and keep everyone engaged.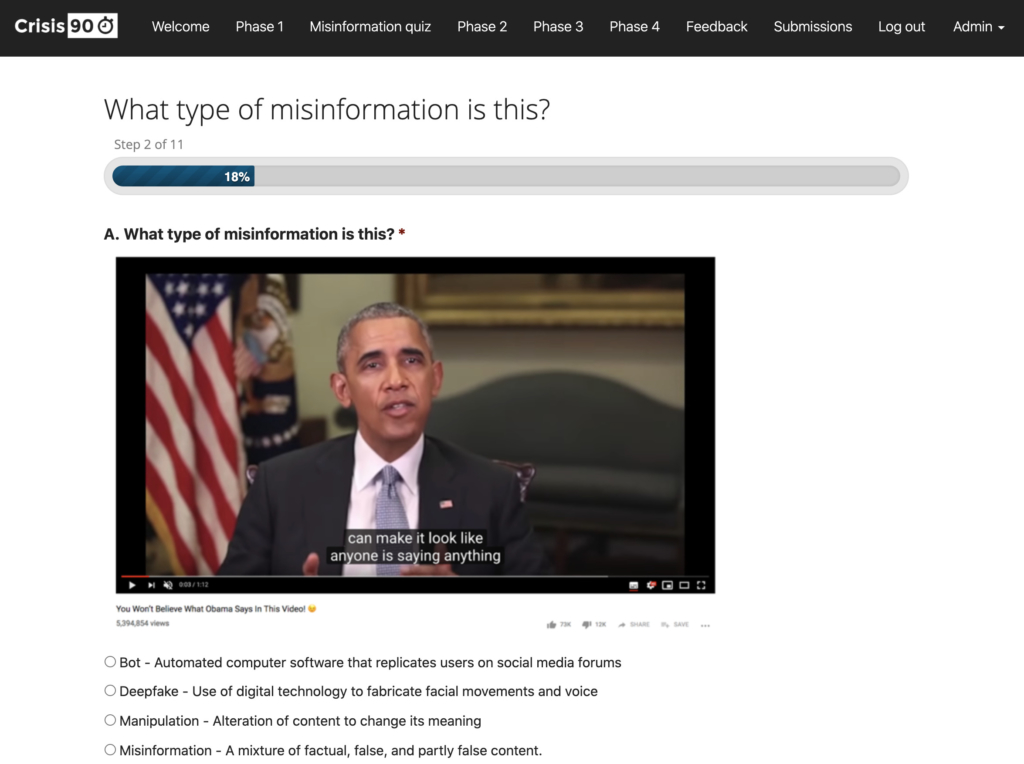 While our world-leading Social Simulator platform still delivers the most immersive scenario experience, with these updates to Crisis90 we think we're able to offer a product which underpins really memorable, hands-on sessions with a focus on learning and discussion.
Some of the biggest brands and communications agencies use Crisis90 to train their teams and clients around the world in a cost-effective and practical way.
We can't wait to see how they use the new features we're giving them to challenge those teams to up their game in the digital-first, virtual workplace we're all fast adapting to.
If you'd like to find out more about using Crisis90 for your workshops, drop us a line: [email protected]