From bushfires to floods, and scandals to pandemics, the last year has been a demanding time for resilience and communications professionals. There hasn't been a more important time for trusted voices to be reassuring audiences online. 
In a time of crisis, people want to hear updates from people they trust. A study by Edelman found the most trusted spokesperson in the Coronavirus crisis is a scientist at 83%, closely followed by an individual's own doctor at 82%. At the other end of the scale a government official is thought of as 48% trustworthy, shortly before journalists at 43%.
One reason why misinformation spreads so quickly on social media could be that an 'everyday person such as yourself' ranks at 63% trustworthiness, even ahead of your own employer at 54%. This explains why reports about an alleged staff update sent by the Princess of Wales Hospital about Coronavirus advice went viral. When in reality no advice had been issued to staff by the hospital and the reports were started and substantiated by only hear-say rumour, fuelled by social media.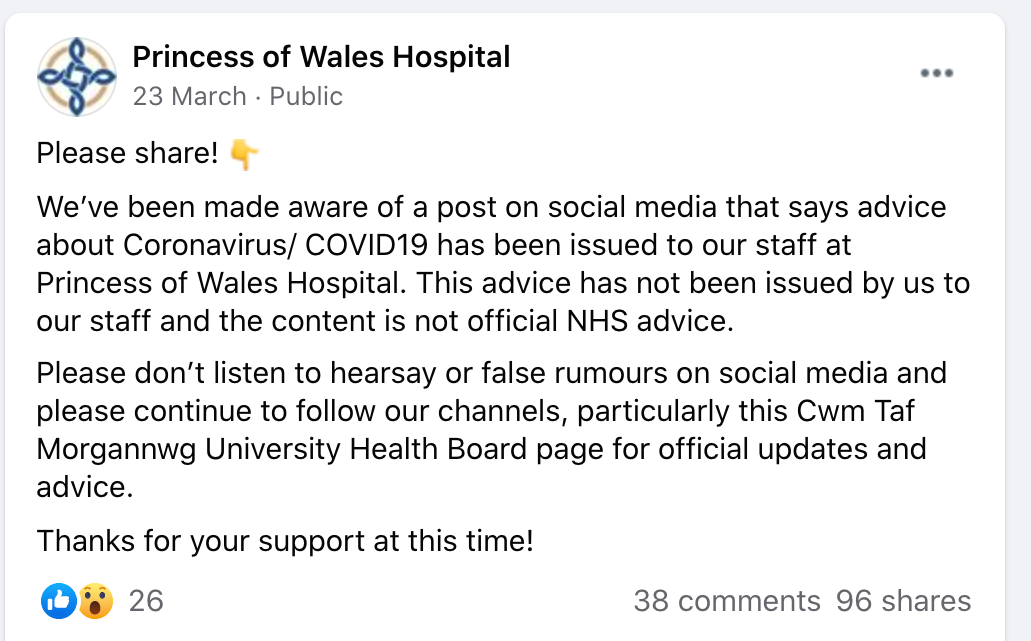 As surprising or expected as the results of this study may be, this isn't the first index to highlight the most trusted voices are those who have the authority of knowledge. Senior figures hold great responsibility and public recognition, but posts from these individuals might not be the right voice to communicate advice on specific subjects, such as science or medicine. Instead, these high profile accounts should be an amplifier – a secondary support to extend the reach and validity of the message. An example of this was when the First Minister of Scotland retweeted the National Clinical Director to promote the correction of misinformation about self-isolation in the initial days of Scotland's Coronavirus response: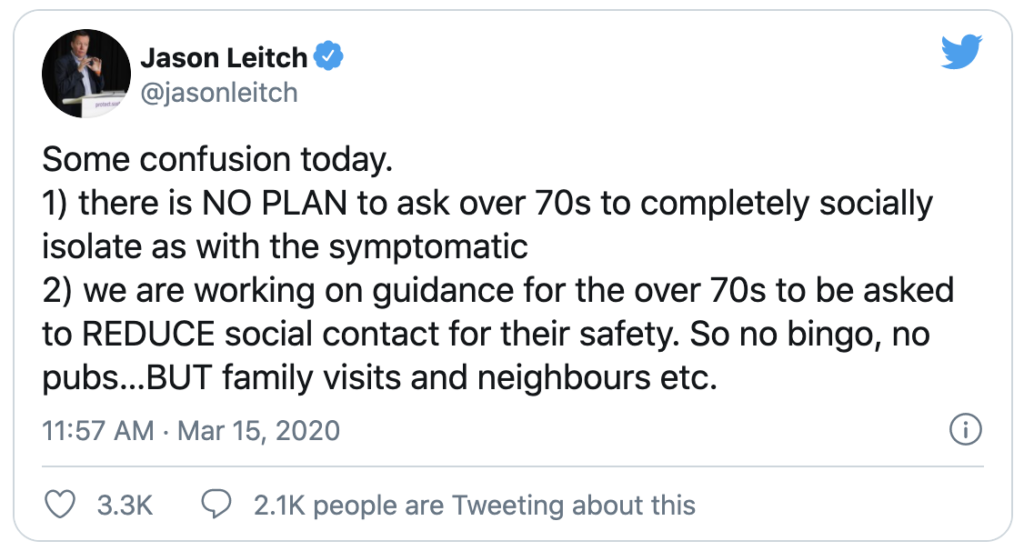 The same principle applies to corporate accounts. Whilst brand channels, including government departments, have a large audience following due to their credibility, this doesn't mean that everyone in the audience believes messages sent in the name of the organisation. The ideal combination is to have trusted voices from the business publish messages first, and the brand account shares the message to add to both the reach and credibility of the message. Considering scientists and doctors are the most trusted professions in the COVID19 response, the Department of Health and Social Care regularly retweets messages from the Chief Medical Officer, Professor Chris Witty, when communicating science based updates: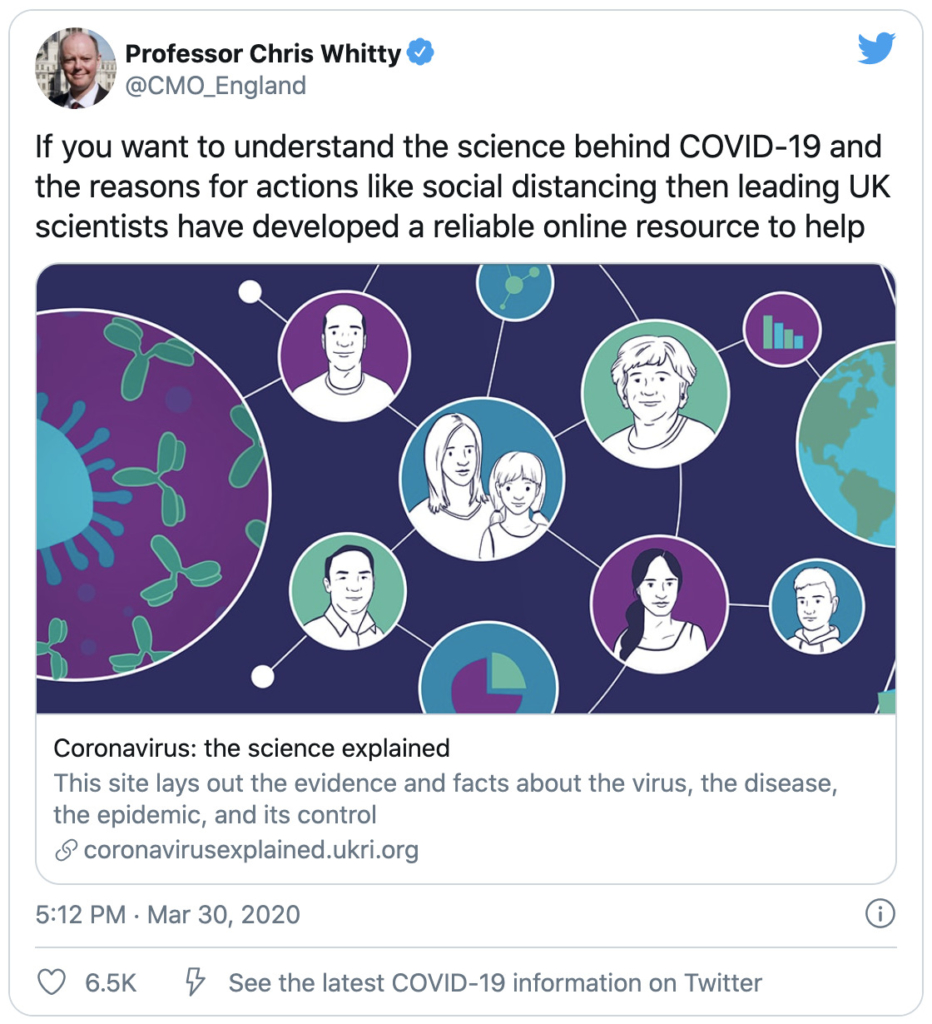 But who are the right people to be trusted voices? And what needs to be considered before signing people up to be online ambassadors? A trusted voices strategy needs to include a plan for:
1. Choosing the social media channel where the target audience is
Understanding where an audience is on social media will allow for a trusted voice to build a network of influence. Ask; which social media channel would people use to ask questions and discuss topics that trusted voices from your organisation could add value to? Perhaps it is Twitter, but if it's a career or business focused speciality, LinkedIn might be a better place to host discussions. 
The CEO of Shell, Ben van Beurden, regularly writes articles on his LinkedIn profile about sector related topics. Not only does he use the platform to publish articles as a conversation starter, he also replies to comments and engages with conversations within his LinkedIn network: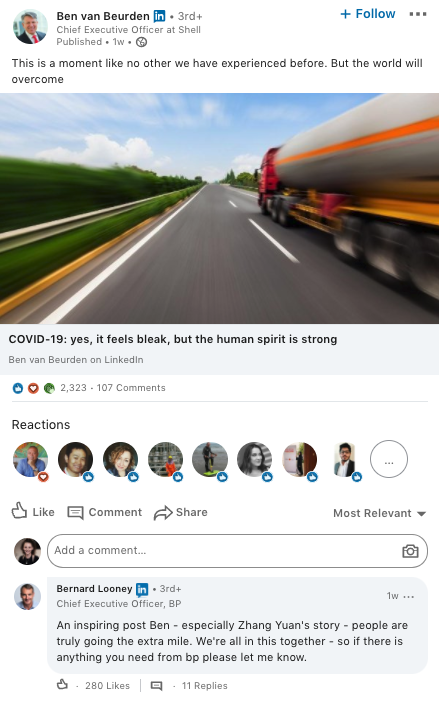 2. Selecting trusted voices who genuinely want to be online 
Just like media interviews, social media isn't for everyone. It's important to pick trusted voices who are committed to posting regularly and engaging in conversations online. People shouldn't be forced into signing up, but don't discount people if they don't jump at the opportunity at first – with some coaching, could this person become confident? I've worked with a few trusted voices who were held back by either themselves, or others, not understanding how social media channels work. From personal experience I can attest that with some support and time, you can overcome some of these barriers. 
I worked with Ian Blakeman over a few months to get him started on Twitter when he was the Executive Governor of a prison in the north of England. He is still an active trusted voice on Twitter, regularly engaging with stakeholders, answering questions, and thanking staff: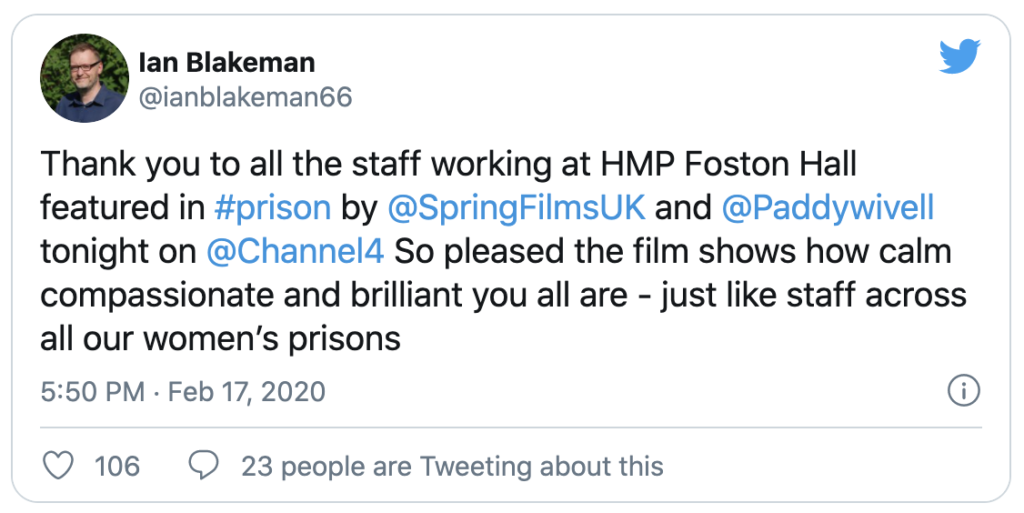 3. Not waiting for a crisis to launch trusted voices 
It takes time to build rapport and trust online. Creating a following doesn't happen overnight, and voices will only be useful when there is an audience in the network to communicate with. Ideally trusted voices are launched in peacetime to allow them space to create their network of influence. Creating an account in the middle of a crisis means an audience needs to be developed from ground zero. It also puts significant pressure on the voice themselves, who will be navigating this new online experience whilst under the pressure of a response.
Police Officer Roy Smith has built his 14.3K Twitter following over six years. His established network would include current and former colleagues, which makes him an ideal trusted voice to communicate the Met Police's message asking retired officers to return to the force.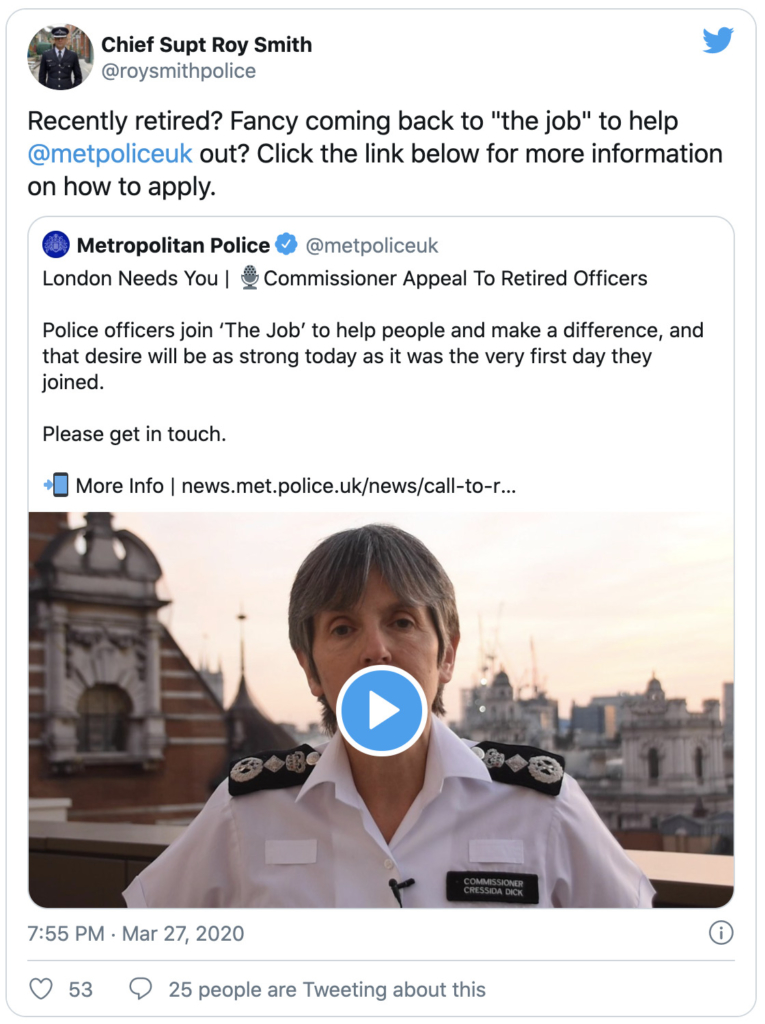 4. Expanding the reach of your corporate account 
The added value of having trusted voices online is that it can expand the reach of messages to different online communities. In many cases, trusted voices will have a niche audience who will not follow the corporate or brand accounts of the organisation. However, when the corporate account and the trusted voice share each other's posts, the message reaches a greater number of people.
John Curtin and Dave Throup are trusted voices for the Environment Agency and as this graphic shows, their individual audiences only half overlap with the corporate account. If they weren't online, there is a significant number of people who the Environment Agency wouldn't have the opportunity to share messaging with: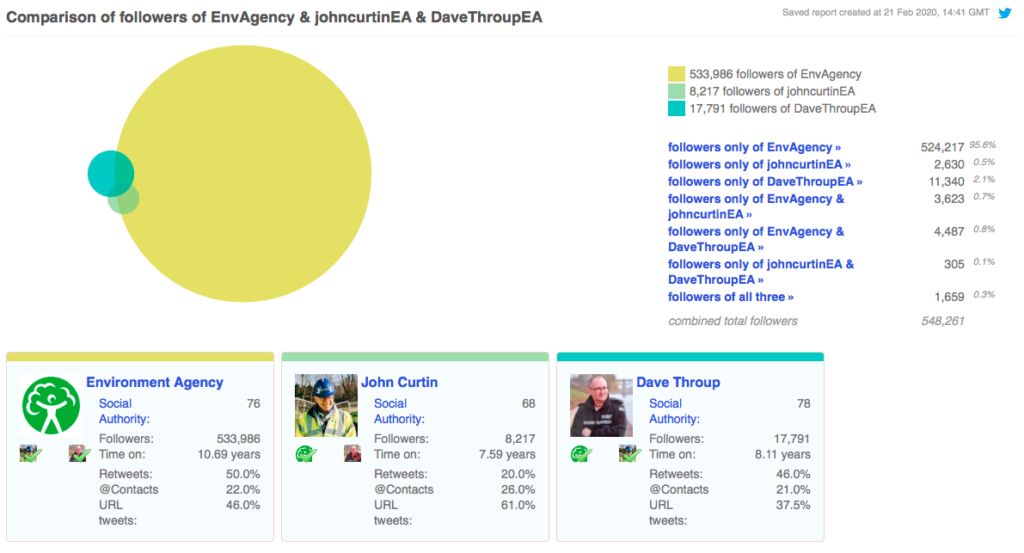 There are many benefits to having trusted voices online. Not taking advantage of the opportunity to engage directly with people, through someone they trust, is in itself a big risk. Some of the world's most recognisable leaders, specialists and key workers are online – and doing a great job. Our team at Helpful Digital have developed a Twitter list of trusted voices to help inspire your organisation to have more trusted voices online. Because now, more than ever, is the time to be communicating with influence.