We like Commscamp. A couple of hundred interesting public sector comms people in a lovely rambling building by the Birmingham & Fazeley canal, run on traditional unconference principles: no fixed agenda before the day, anyone can pitch a 50-min session, and the "law of two feet" applies (i.e. if a session is boring you, feel free to go to another one).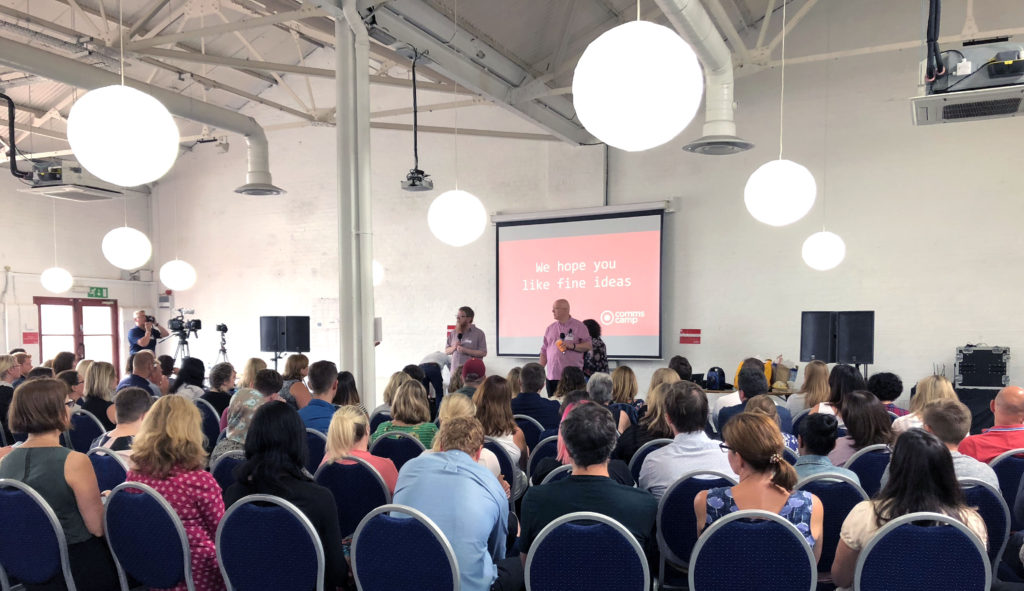 Kate and Steph were there since Helpful was a sponsor of the event (enjoy the lollies, Commscampers!) and here's nine things they learned:
1. Easy read (and accessibility) is a thing you do, not a box you tick
I've got the principle of accessibility web design OK (semantic structure, resizable text, text alternatives for images) but haven't delved much into accessibility for users with learning disabilities. It struck me there maybe more kitemarks and standards in the world of accessibility than are strictly helpful, which encourages ticking boxes over thinking sensibly about making content truly usable by lots of different people – subtitling your videos the right way is good for Google juice, people on trains and deaf people.
Likewise, applying the principles of 'Easy Read' to content isn't magic: short sentences, active writing, one idea, bullet points, simple formatting.
2. Email newsletters are Encyclopaedia Britannica in a world of Google queries
In the post-apocalyptic world of GDPR-compliant email lists (as in so much of life) it's not how big it is, it's what you do with it that counts.
Dave Worsell of Granicus was telling me how their most successful clients get engagement from keeping emails campaign focussed: one thing, a clear call-to-action, to an engaged list. Rounding up a months' worth of 'news' into an email newsletter is 20th century, print-based thinking. Pixels and emails are cheap, and attention is expensive now. Send more, shorter, better emails.
3. Twitter chats are going strong
In a session on engaging local communities around consultations, Helpful alumnus Al Smith talked about engaging in local community groups and pages online, and various people shared stories of inviting skeptical stakeholders to physically experience changes – the ringside seat approach still wins people over. Twitter chats too are still going strong, and here's a massive list of regular chats if you're looking for a community to tap into.
4. Dave Throup of the Environment Agency is still going strong too
We've used the example of Dave Throup, Environment Agency manager in Herefordshire and Worcestershire, for some years in our training courses. Highly visible, engaging, professional and human on social media, he's a trusted voice in good times and bad. 14,000 followers and six years on, he's still showing that communicating about your job on social media can just be part of doing your job well.
5. Customer service is about courage, co-ordination, channel shift and caring
We pitched a session on customer service, and I really enjoyed the discussion we had, hearing from some of Commscamp's quieter voices. Some faced huge cuts, political opportunism, regular abuse, and challenges getting customer issues resolved. Doing it well seemed to boil down to:
Courage: taking on the keyboard warriors when they overstep the mark, assertively challenging abuse or baseless complaints with patient facts, not just emoliently soaking up the hostility. Be fair, and people will step in to defend you.
Co-ordination: clear roles for your channels and relationships between contact centres and comms teams, make for more effective responses. It could be that devolving customer service responsibility carefully to other teams gives them more ownership of the problems.
Channel shift: sounding off on Twitter isn't an efficient way to get things fixed. People are running campaigns to focus customer feedback onto better channels, like website forms or WhatsApp accounts where customer can send pictures of documents rather than having to physically bring them in.
Caring: dealing with abuse or even just relentless criticism is tough. Getting the team together to share their worst stories and end with a laugh, or giving them a physical break in a safe space, can help them get through the shift.
6. Defamation and all the legal stuff is important online
Attending this session led by David Banks was like going back to journalism school. The same principles apply: don't say the wrong things, or risk getting sued. If a post or tweet is wrong, deleted it and apologise quickly. But before you delete it, take a screenshot of the metrics to show the reach up until the post was taken down. If it makes it to court, those metrics will come in handy.
If you, or an organisation retweets something, you are just as liable for publishing the content as the original source. In short, the line of 'likes and retweets aren't endorsements' in a Twitter bio isn't going to be enough to hold up in court, so be sensible with what you promote.
7. Think: how and who do we trust?
Trust is earned by being authentic and behaving appropriately. As one person in the session said, 'You can't communicate yourself out of something you've behaved yourself into.'
Survey results by Edelman and Ipsos Mori show professionals such as scientists, nurses and police are seen as some of the most trusted people by the British public. Politicians and journalists are seen as the most untrustworthy.
So, what are you to do when the political figure of the organisation insists on being the spokesperson? Dan Slee suggested a very good answer: do a 30-second Facebook video with the most trusted voice first, followed by the political figure to sign the video off. The optimal Facebook video is 15 seconds long so prioritising the speakers is key.
8. Yes, you can do a podcast
Instead of being the big scary elephant in the room, podcasts were revealed to be a cheap and easy comms piece to create. Yes they take time, but creating podcasts doesn't have to be a long-term commitment.
Starting out with a six-part series about a particular topic is okay – perfectly normal, if you will. Recording a clip on a smartphone is fine (although the audio quality can be improved by using an inexpensive lapel microphone) and content can be hosted on sites like Soundcloud for free. Adding audio to Apple Podcasts is quite straightforward and is also free.
9. Evaluating is important (and is more than red and green sentiment graphs)
Evaluating projects can be a long and challenging process to undertake. Measuring a change in an audience's behaviour can take years, and sometimes even that data is hard to trace.
However challenging, it was unanimous in the room that evaluating work is important. We discussed how 'Vanity metrics' such as AVE are not the be all and end all, as much as the powers above sometimes feel they are.
We were also in agreement that the success of a campaign shouldn't be based on the volume of interactions, but on the impact the work had on the audience. Which is why it's so important to evaluate if the audience understood the campaign and, if not, what needs to be done differently next time round. Finding shortfalls is actually a good thing, because it allows us to be better.
Big thanks to Dan, Emma and the other organisers and volunteers. It was brilliant. See you next year.