Recently we have:
Taken part in the Pandemic Buzz podcast. 

Chris shared insights into

: how we are managing at the moment, who to surround yourself with in a crisis, companies who are doing a good job at the moment, misinformation, how coronavirus might change our business and scrabble!

Had an article about the importance of Trusted Voices published on the Crisis Response Journal website, reproduced here

Shared #24HoursOfHelpful and a taster of the work that we get up to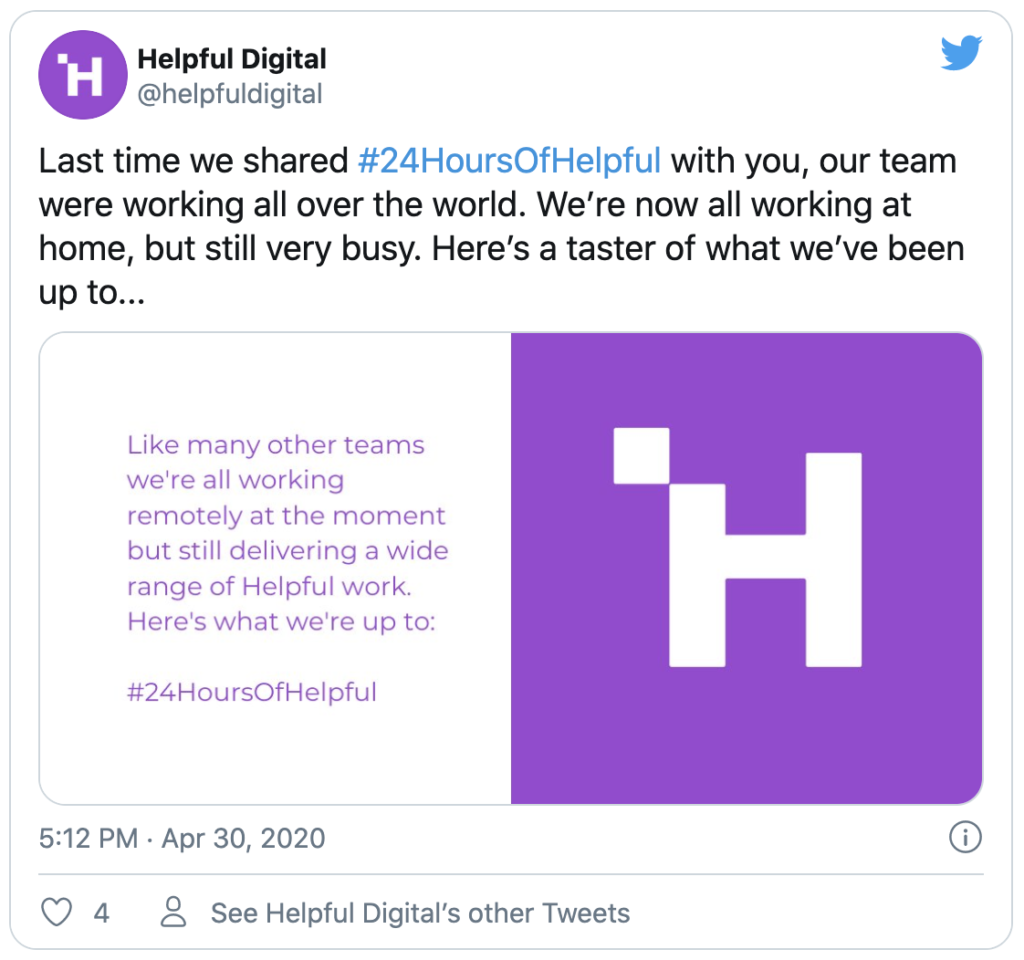 Helpful Reading for May
We've been busy reading too, here are a selection of some of the articles we've enjoyed and wanted to share with you.
Misinformation has been dominating the news once again.  First Draft have a comprehensive toolkit to help verify information online   Full Fact have recently published their report into three elections, the EU referendum and the current coronavirus pandemic—to set out why bad information starts, how it spreads and what we can do about it. WhatsApps restrictions do seem to have had an impact on the spread of misinformation on their channel. 
This week the Department for Culture Media and Sport's Committee has been looking at the issue of misinformation and why it spreads, including the role of humans. 
The Government Communications Service have also published a blog about how they are fighting false coronavirus updates. 
Channel strategies can sound like a grand thing to write, but they don't need to be overly complicated, we liked this simple example from BBC Bitesize:
"Bitesize's social media will also look a little different for a while. Its Facebook and Twitter accounts will now focus on parents, where information including study schedules will be shared. Teenage students can still enjoy our Instagram platform, where flashcards, subject guides, memes and some lighter relief in the form of advice and encouragement from well-known faces will be readily available."
This is a fascinating look at how Coronavirus has changed how we use the internet.
A long read but a beautifully presented one – Eight things I've learned about creativity.
Accessibility is really important in communications, emojis don't always help so how can you use emojis intelligently? 
What's it like to have accessibility needs? Empathy prompts can help you to understand.
Some useful resources to finish with:
Excellent tips for crisis communication from Alastair Campbell
Planning the route out the Coronavirus crisis, which includes this excellent matrix to help inform your thinking.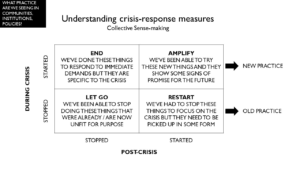 If you are busy working on coronavirus communications for your organisation let us know if there's anything we can do to help. We've got lots of resources we can share, including a diary template to help you to keep track of how things are going. 
If you've got a bit of time on your hands now that home working has been established and lockdown has yet to be lifted, why not take the opportunity to review your social media accounts? We've written up this run down of how to go about it.