Whether you're joining an established organisation, involved in a merger or other internal reorganisation, you might find yourself inheriting a collection of social media accounts in disarray. There's absolutely no way you can deliver an effective digital strategy if there are odd accounts, unknown people with access or worse, you have no access to one or more channels. 
Recently, we worked with a large housing authority who, after a reshuffle, had found themselves with a complicated tangle of social media accounts they couldn't administer fully. By using the three steps below we were able to help organise their accounts and leave them with a set up which would allow them to be more effective in their work online. No matter the size of the mess, following these steps will get you to a cleaner, more organised position to work from:
Step 1 – Audit what you have 
Whether you draw it all out on paper, stick up post-its on the wall or construct a spreadsheet, it's best to have a clear understanding of exactly what you have. There will be a few things you'll need to learn in this audit:
Just how many different accounts do you own and on which channels?

Who has access to what? 

What channels are connected up? 

What social media management tools do you have accounts for?

Are there any dead accounts not being used?

Are there accounts you can't access?

What is each channel's purpose?
By mapping it out, you'll be able to see the wider picture and begin to figure out how they all fit together. In larger organisations there may be a number of accounts coming out of different departments. Why not start the audit with a social media amnesty? The last thing you want is to organise all the channels only to find a rogue Twitter account you missed. 
This template might come in handy.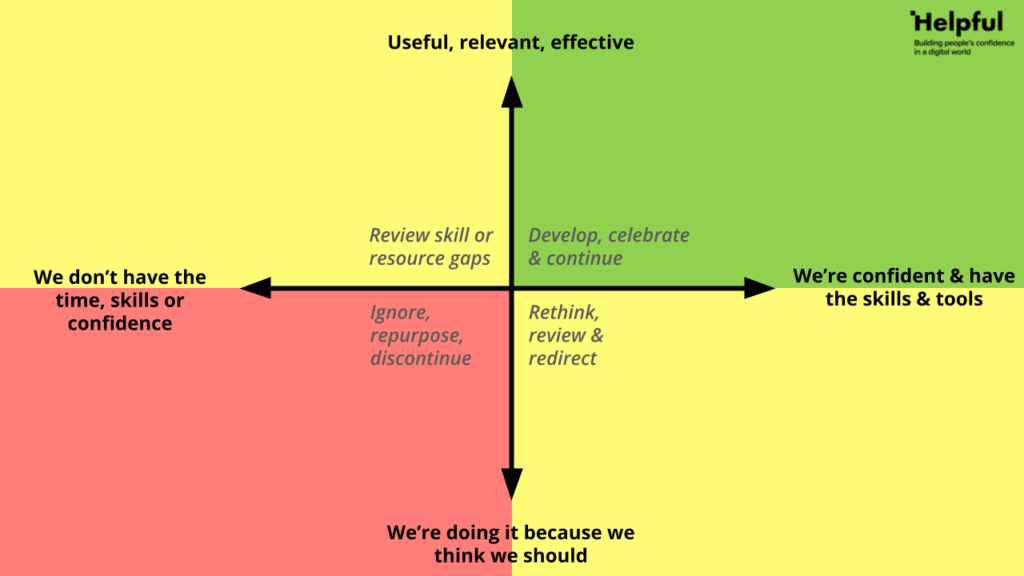 It's available as a jamboard too, simply make a copy to add your own virtual post it notes.
Step 2 – Make some difficult decisions
Depending on the state of your digital assets, you might need to make some tough choices. At the extreme end of the scale is deleting accounts and starting from scratch. This isn't an easy decision to make especially if the account has an established following already. Other choices you might need to make might revolve around merging of Facebook pages or deleting accounts that aren't right for you strategically. 
If you are making a particular social media account redundant, you might decide to keep hold of the account to stop others from taking it over and possibly misusing it. In this instance, pin a message to the top directing people to the right account. 
Smaller decisions might include refreshing account names, updating settings, choosing who has access to what and any responsibility changes that come out of the clean up. Beware, if you're changing the username of a verified account on Twitter, you'll lose your verified status. If the change is necessary, contact Twitter ahead of time so they know to re-verify you. 
Step 3 – Communicate change
Whether it's internally to colleagues or externally to your audience, it's a good idea to let them know of any change coming. 
If accounts are merging, moving or dying, letting your online followers know will give them the opportunity to decide what to do about it. A number of reminders over a couple of weeks notice before you make the changes should be enough. Just make sure you post at different times to catch different audiences. 
Your internal audience can often be just as important as your external one. Change in an organisation, even if it's just your social media structure can be confusing.  Keeping everyone informed during a period of change helps to make them all feel part of it and hopefully enthused by it too. Why not use the time to collect feedback from colleagues or offer training to staff who would like to understand social media better? 
Don't forget to keep communicating even after the change has happened. Share the successes since the refresh and how it's helping you to work more effectively. 
Then What?
Once you've completed steps one to three, it's just a case of actually making the necessary changes until you channels are all set up just the way you want them. Remember though, the right setup might change over time so a good annual audit and refresh should go in the diary. 
Top tips for keeping accounts clean:
Have at least two administrators on your Facebook page at any one time. If you just have one, you run the risk of getting completely locked out of the account if something were to happen to them. 

Have a process in place for adding and removing staff access to channels. That way you can be sure no ex-staff members still have access after they leave. If you have a new starter/leaver process, it can be included into that. 

Keep a record of who has access to what and don't give people more access than they need. Facebook and platforms like Hootsuite allow you to customise the access, meaning no-one can accidentally post from the wrong account. 

Use a password manager like LastPass to make sure you don't forget log-in details. Keep passwords secure and think about changing them on a regular basis (how often might depend on how high profile your account is).

Oversee all new social media account creation so that no new channels can pop up without you knowing about them. Make sure you have access to all the channels even if you don't manage them all. 

Consider building a collection of trusted voices from within your organisation who can promote your work through their own social channels. This is a good alternative to setting up social media accounts for projects or teams which end up being neglected or die after they're no longer useful.