Recently we have:
Published a full guide to

Crisis Communications Planning

with a downloadable template to help you to write or update your Crisis Comms Plan

Delivered a mix of crisis training, social media skills and LinkedIn training for clients in 15 different countries, including Papua New Guinea

, Tunisia, France

and Hong Kong

Begun testing a new social media training program for 55000 employees in a Fortune 500 company

Helped a law firm to put dozens of their clients in Asia through a virtual cyber incident, collaborating live online using our

Crisis90

tool

Added new functionality to our flagship

Social Simulator

Shared our tips on

Creating an online learning community

Created our

first reel on Instagram
As always, we've been busy reading too, here are a selection of some of the articles we've found interesting and wanted to share with you.
Firstly some ideas for coping with the ongoing COVID situation and the helplessness that comes with it: https://www.uncertaintimes.community/
This is a relatively nonsense free piece on home working (and home IT in general) security.
And here's a handy guide to keyboard shortcuts.
Misinformation
Facebook tweaked their algorithm after the US election to prioritise mainstream news sources. Twitter has started to warn you before you like a tweet with a fact check label.  
Now the US election finally (we think) has a winner, efforts to tackle misinformation are now being focused on the Covid 19 vaccine.
This is an interesting read on COVID vaccine narratives and misinformation in different language communities, from the excellent First Draft News: 
Ipsos Mori's recently published Veracity Index 2020 makes for interesting reading and shows what a huge difference there is in the level of trust we have in certain professions – we'd recommend using it to help inform who your spokespeople should be, both day to day and in a crisis. 
Social Media and Digital News
After a few early glitches, Fleets, Twitter's equivalent of Stories, have rolled out to all users this month. 
It's also that time of the year when round-ups start.
YouTube have announced 2020's top-trending videos and creators on their platform.
TikTok have revealed their top 100 of 2020. This was the most popular video!
On a smaller scale but of note are posts under #TeamHalo and accounts like Dr Anna Blakney working to combat misinformation about Covid-19 vaccines. 
LinkedIn have published their Top Voices of 2020.
Our friends at Empower have put together this list of free social media monitoring tools.
We also like this useful tool to help you check your social media previews when your content is shared to social platforms and understand how to fix problems. 
Crisis Communications 
We've used the Gatwick drone crisis as an example in some of our training courses, highlighting some of the things the airport did well in their crisis response. With any crisis once the initial peak is over there will be times when attention comes back to what happened; this recent Guardian article goes through the incident in full. 
Good Digital Communications
Good work by the Office of Rail and Road announcing station usage statistics, including a departure board style top 10. 
Britain's busiest railway station London Waterloo recorded 7.3 million fewer entries and exits between April 2019 and March 2020 compared to the previous year but remained the most used station.

Here's how the top 10 most used stations looks 👇 pic.twitter.com/CmRqgEM0xx

— ORR (@railandroad) December 1, 2020
A well made video from Bristol Zoo Gardens to announce major changes
Helpful news and updates
Our London office is open again, the Christmas tree is up, but we're being very careful about how many people are in the office at any one time and working from home where we can.  Our team catch ups are still via Google Hangouts and Zoom and we've organised a virtual Christmas party – Mibo looks like it would be fun to try too.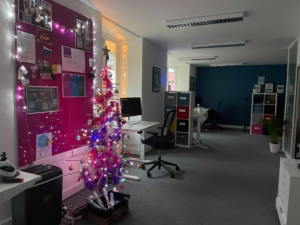 Get early access to our briefings, updates and product news when you sign up to our emails via this link. You'll receive a copy of our guide to Twitter's new reply functionality when you register. We'll only send emails when we have something useful to send you.