We've been spending much of 2020 working alongside our clients to re-imagine how we deliver crisis training and validation exercises together.
A core component of that is our life-like exercising platform, Social Simulator. It's a hands-on, private digital experience that enables realistic, interactive simulations of social media and corporate channels in a challenging scenario or crisis. It gives your team a practical 'stress test' of your processes and plans, to improve your preparedness.
With corporate life adapting to the changes wrought by COVID-19 on all of us, most of our clients have opted to move to virtual deliveries of crisis simulations and training to reduce the risk of transporting teams to one location, and enable them to test how effectively they can mobilize their teams and manage a crisis response remotely.
Pandemic or no pandemic, the chances are the first stages of a crisis will be managed remotely rather than conveniently around a conference table. So, your ability to work as a virtual team in a crisis is a core skill now, and one that is worth rehearsing.
We've run virtual exercises for several years now, and the savings in time and cost are a big benefit over traditional exercise facilitation methods. But as teams adopt new tools and work in new ways in their organisations, we've been working hard on new features and improvements to our flagship product, to make virtual exercising even smoother.
Integrating collaboration tools into exercises
For a recent emergency exercise, our client integrated our Overview Dashboard right into the Teams instance they set up for the drill.
Our platform uses native web technologies without any special plugins or installs needed, so it slotted straight into the tool the team was using and helped those in strategic and management roles to keep tabs on the key developments in the scenario, while their PIO (Public Information Officer) colleagues had full access to publish statements to replicas of their website, Twitter and Facebook.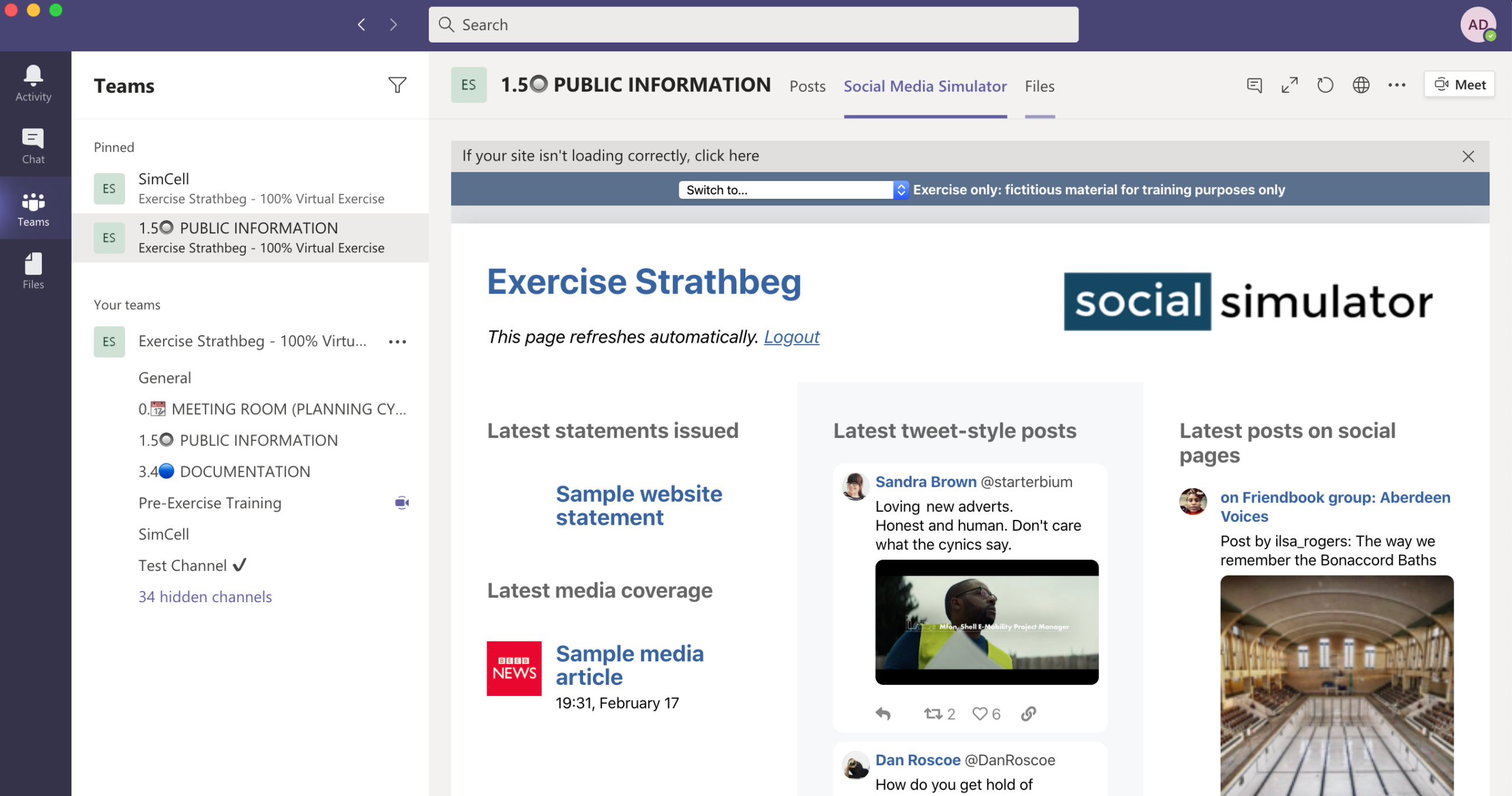 Improving remote facilitation
Facilitating and observing a virtual exercise is an acquired skill. Listening in to team conversations in multiple virtual breakout rooms can be a challenge, especially while also trying to keep track of what's going on in the exercise scenario and direct the roleplay.
Our new Facilitator Dashboard brings the key events in the exercise timeline, the simulated social media feed, and the email traffic between all participants into a single, private view. Our clients are giving us great feedback about the visibility this gives them of what's happening across the exercise without needing to switch between modules.

We've also added a system-wide newsflash, so it's easier to send a prominent alert to all participants. We've had clients use this to indicate scenario time jumps or ask participants to complete post-exercise feedback surveys to feed into virtual debriefs.
Supporting global teams better
A key strength of our platform is that we take a global view of crisis communication channels and social media – for example, while Twitter is a key channel in Europe and North America, it's much less salient in parts of Africa and Asia.
We've expanded our template library to over 1,000 lifelike media brands covering local, national and international media organisations, blogs, forums and communities. We've recently added replicas for emerging channels such as the alt-right Parler and growing communities such as NextDoor where local issues can blow up quickly.
I've written more about how important we see Facebook Groups as being to an organisation's digital communications – in peacetime or crisis. We've introduced Groups and timelines into our virtual exercises, and clients have been using them actively to simulate the additional challenge of engaging in these 'earned reputation' spaces.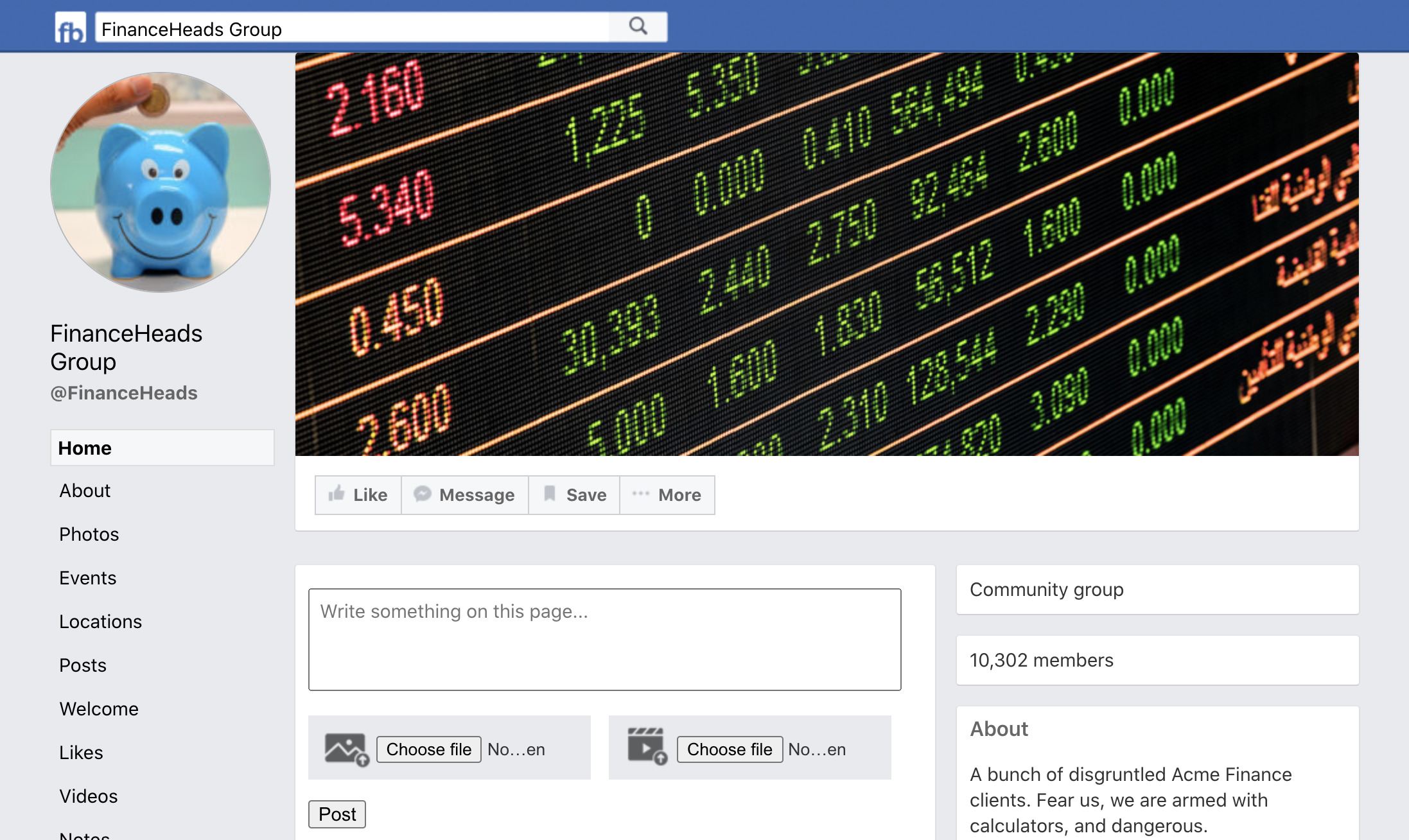 Our roleplay features now have a wider range of local character profile names, from French to North African, Singaporean to Vietnamese.
Making social media more lifelike
A big focus for us has been keeping pace with the richer forms and norms of social media content being posted now – applying learnings from some of big events of 2020 including Black Lives Matter, the US Election and of course, the misinformation around COVID-19.
We've added and refined our social media roleplay features to:
Better simulate the scale of reaction to posts going viral, with simulated counts of likes and retweets which roleplayers can update during the exercise as a post gains traction by editing published tweets
Integrate GIF reactions with access to the GIPHY library to add to posts on Twupdates or Friendbook
Greater use of video, with easier upload and playback of video by participants and roleplayers, to Twupdates or Instantgram – simulating video posts, or simple Stories
Rework our Autopilot: our auto-tweeting functionality now handles up to five parallel streams of tweets on different topics and from different categories of Twupdates characters, simulating the mix of business-as-usual, customer and wider general public reaction to an incident, and how that changes over the course of a crisis
Make exercise preparation smoother, with pre-drafted and editable tweets
Make the internal comms challenge more lifelike: adding a social intranet/chat module simulating Yammer, Teams or Slack, which participants can use to post, share files or comment on roleplayed posts as they manage the situation together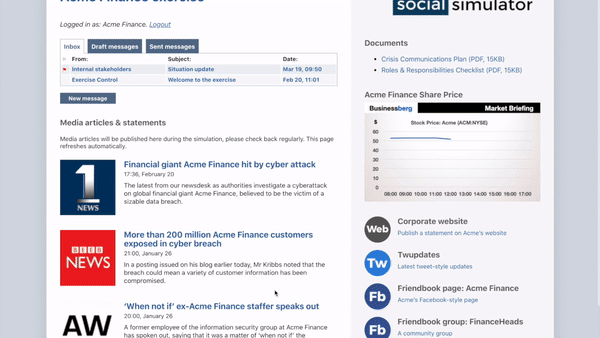 All in all, the challenge of running almost all of our work in a virtual format has pushed us to enhance our core product and work closely with clients to ensure it gives them the feedback they need to manage exercises effectively.
It's been incredible to see virtual teams taking on scenarios ranging from cyber attacks to COVID outbreaks, influencer allegations of racism to environmental activism – and really learning as they collaborate virtually to manage the crisis, so when the real thing happens, they're better placed to respond.