New social media and digital channels are launched all the time, but does your organisation need to be on all of them? How do you decide whether to sign up or steer clear? Here are some key questions to help you:
What is your objective?
Whether you are a business looking for leads or sales, a government agency tasked with  communicating with the public, or a charity fundraising and engaging supporters – your social media activity should support your work and aims. Will this new channel help you to do that? How?
How are your current channels performing?
A quick audit of what is working, or not, at the moment is a good place to start. This can help you to decide whether to add new accounts, replace one or more of your existing accounts, or stick with what you've got. We've got a handy template here to help you to analyse your current accounts.
Who is your target audience and where do they spend their time?
You need to go to where your audience are and communicate with them there, rather than expect them to come and find you. If it's a new social media channel that is just getting started, are your target audience likely to use it now or in the future? Instagram wasn't originally considered to be somewhere businesses or organisations could or should spend their time, but that has changed hugely. The same conversations happened when TikTok first started. Again it has moved far beyond a platform for friends and family. Many organisations, public figures, charities, museums and more are now using it to good effect. It may be that now isn't the time to start a new account, but review your decision in a few months if you need to.
Do you have enough of the right sort of content to sustain another channel? If not, do you have the budget or resources to create the right content?
There's nothing worse than a social media channel that looks like it has been abandoned. How will you make sure you have enough content for your new channel? Will it be at the expense of your existing efforts? One or two well managed, frequently updated social media channels are better than a multitude of badly managed accounts, that drain your time and energy thinking about what you can post.
To reach your target audience and achieve your objectives you need the right content for your new social media channel. How are you going to create it? What skills do you have within your team and what might you need to outsource? If you are going to do it, do it properly. Think of businesses or organisations who have a similar audience to your own, are they using the channel you are thinking of joining? What seems to work well for them? Could you do something similar?
Do you need an account to be able to monitor effectively?
On some platforms content can only be accessed if you log in. This might make it more difficult to accurately assess if your organisation could or should be using that channel. Having an account to see how the channel works, who uses it, and what kind of content performs best is useful research if you are thinking of using it in the future. It also means you are ready to monitor activity if you suspect there are conversations of interest or of concern to your organisation.
Is it here to stay?
New social media apps are launched all the time. The majority of them don't last. Take your time before putting too much effort into something brand new.  With Clubhouse much of the conversation was generated by the scarcity of invites and fear of missing out. However, with Facebook, Twitter, and LinkedIn all looking at audio-only features, an analysis of whether this kind of content and channel would suit your organisation and your audience would be worth looking into at this point.
Listen to Tim Lloyd discussing audio channels in this post
There have been a few channels talked about as the next big thing, who remembers Vero?  Google search traffic for Clubhouse shows a huge spike but then low levels of ongoing traffic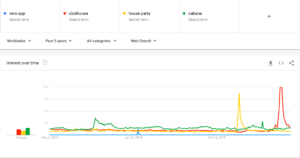 TikTok in comparison, shows a continual rise in Google search trends data.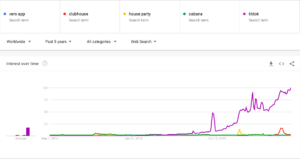 There are so many opportunities to engage online, but it is incredibly important to make sure you are targeting your efforts and that your digital activity supports your overall objectives.
We work with organisations of all shapes and sizes to build a digital strategy that's right for them. If we can help you to do the same, please get in touch.