JD Wetherspoon is a chain of 900 budget-price pubs across the UK. They decided to quit social media, having attempted to run various twitter and facebook accounts, with varying amounts of effort and success.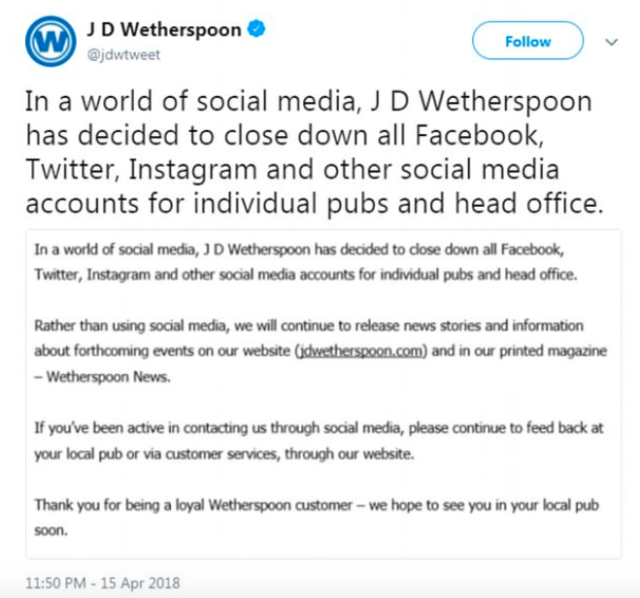 On the face of it, for a big public-facing organisation to quit social media is bold. There was even talk about Wetherspoon having quit because of their worries about the damage social media is doing to society.
Pub operator JD Wetherspoon is to close down all its Twitter, Instagram and Facebook accounts. Chairman Tim Martin: "It's becoming increasingly obvious people spend too much time on Twitter, Instagram and Facebook and struggle to control the compulsion." #Techlash

— Kamal Ahmed (@bbckamal) April 16, 2018
Whatever your feelings on the impact of bargain beer and cheap food on society, that last point doesn't quite ring true when the company concerned continues to actively promote their in-venue food ordering app. Surely if you want to get people off their phones, you'd cut the wifi or offer discounts to those who chose to talk to each other?
No, the real reasons JD Wetherspoon quit social media, and why other large organisations persist with paying little or no attention to their presence on social media, is two-fold:
Social media doesn't make them any money. There's no direct correlation between tweets and pints poured.
They don't feel they need to worry about customer service, or reputation. The punters keep rolling in, Government and regulators are seemingly happy, so what's to worry about?
Others have already written about the missed opportunities for marketing, but my main concern is how JD Wetherspoon will make themselves heard online in the event they face a crisis. Let's face it, a business whose income is derived from serving food and drink to thousands of people in town centres is likely to face a range of problems.
How will they reassure customers when one of their venues is at the heart of attempted terrorism? When rogue staff begin spreading rumours about conditions behind the bar? Or when spoof accounts are widely shared?
It's easy to pick these examples off the shelf when working in crisis preparedness, but for anyone in the business of running and managing venues, this should be fairly routine scenario planning.
Customer service was never part of the plan
Looking back on Wetherspoon's past activity on social media, it's pretty clear that customer service was never part of the plan. I know from first-hand experience that queries were answered in a matter of days, not hours, and were, I suspect, luck-of-the-draw. A far cry from rival businesses in the pub and restaurant game.
I'm assuming that by dropping their channels, they will no longer be monitoring social media either. What tends to happen is that social listening becomes less active, less important, and is reduced to a footnote in a media cuts pack.
That's a real shame, because the organisation instantly loses its best early warning system and its ability to identify escalating issues.
Which brings us back to money and reputation. By being on social media and willing to listen and respond to customers, surely there is still a worthwhile opportunity to preserve loyalty and reputation?