Recently we have:
Published a

digital communications planner template
Rolled out the Spanish language version of our digital training programme for a major Chinese multinational. We're helping more than 40,000 of their staff take basic and advanced levels of training in social media awareness

Delivered remote social media training for clients in Greece, Papua New Guinea and Nigeria

Prepared crisis simulations on topics ranging from terror attacks and cyber incidents to environmental protests and industrial accidents: ready for a very busy September!
Our latest round up of Helpful Links follows:
Crisis and dealing with misinformation
City and State organisations in the US are recruiting social media influencers to reach vaccine skeptics and dispel myths. 
Meanwhile on Reddit moderators are protesting against the forum's approach to Covid misinformation. 
This is a good example of an academic using TikTok effectively to debunk mis/disinformation. 
Twitter tests 'misleading' post report button for first time.
Good Digital Comms
The Royal Air Force have managed to deliver some incredible social media content while evacuating British nationals and refugees from Afghanistan: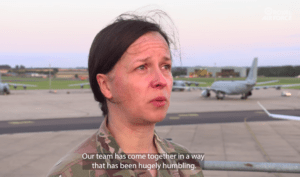 Say it with a Spotify playlist
Envoyer un message avec une playlist Spotify : cette tendance est devenue un meme.

Thierry Breton, le Monsieur Vaccin de l'Europe, vient de dévoiler la sienne… L'occasion de glisser quelques messages politiques sur la vaccination. 👀

De l'humain, de l'humour : bien joué ! pic.twitter.com/ZqMwwu5rKq

— François d'Estais (@fdestais) August 12, 2021
Patrick Poyanne, CEO of Total, delivered his first Q&A video on LinkedIn. Want to learn more about the best energy CEOs on social media? Download our report. 
This response from a bar accused of homophobia includes all the right care, action, and perspective elements to it.
Social Media News
There's a round-up here of how social media channels dealt with the Taliban taking power in Afghanistan 
Snapchat has launched Trends – explore what topics perform well on Snapchat and better engage with your audience.
Twitter is looking at developing Spaces further. Replays will be a really useful feature, particularly for accounts with followers who can't all be online at a particular time and date.   If you are thinking about using new channels or functionality here are some key questions to ask first.
LinkedIn Stories are changing
Instagram reveals how their search works, with one key question answered – hashtags should go in your post, not the first comment for maximum visibility. They say: "For a post to be found in Search, put keywords and hashtags in the caption, not the comments." 
Swipe up links are being replaced by stickers in Instagram stories, but will still only be available to accounts that already have the ability to add swipe up links ​. 
Any questions?
If you have any questions about any of these links or anything else digital please get in touch, we love to help. 
Email us