We've created a digital communications plan template to help you and your team to capture the key information for your next communications campaign.  Our comms planner covers each of the important elements of a successful strategy.
Audience and Objectives
A good communications plan starts with SMART objectives and a clear understanding of who you are trying to reach and what you want them to do.
Listening
With your audience and calls to action identified, you can move on to listening. Who is talking about relevant topics? Who could help you to reach your target audience? Are there any myths or misinformation that you need to correct?  What questions are you likely to be asked?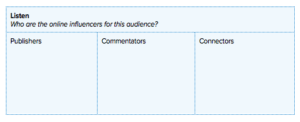 Content
As part of your communications campaign, you'll need to create shareable content. Decide what this is going to look like. Remember, visuals are essential. Use images if you have nothing else, but this is a good time to plan how you'll create short, compelling video or graphics.

Evaluation
A crucial part of any communications plan is evaluating the impact. We've broken it down into three key areas based on the excellent AMEC evaluation grid:
Reach – how many people saw your messages?
Reaction – what did people do next?
Change – did people take the action you wanted them to?
Our digital communications planner is a helpful template to use for a wide range of campaigns and projects. 
There's two copies of the comms planner, one with explanatory notes for each section, one as a template that's ready for your ideas.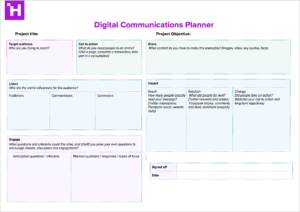 Do you want to develop this further?
Talk to us informally about how we can help with digital strategies or digital training for teams through our Digital Action Plan – a personalised, blended online/offline digital skills programme: email [email protected]