This month we have:
Said goodbye to Anthony, Matty, Serena and Calum who are moving to dxw digital as w

e

focus on our digital capability work.

At the same time, we're also saying goodbye to our awesome Project Director Katie, who's off to the seaside as part of her new life in Dorset.

Delivered a crisis communications webinar

on accessibility, responding to negative comments and involving the wider comms team in social media.

Run a

remote crisis exercise

for 1

10 MBA students working in 22 crisis management teams to mount a remote response to an escalating food contamination issue

    
Welcome to our March round up of key links and interesting digital content we've spotted, these are a selection of the things we've been reading and sharing among the team.  With all that's been going on they are heavily dominated by Coronavirus and the good work we've spotted from digital teams around the world. 
This is a collection of all the Government Coronavirus advice websites from around the world.
Trust in governments and their response efforts varies around the world, this research is a comparison of seven different countries.
Organisations
As well as being a fantastic event, the #ClapforCarers campaign had an amazing impact on the NHS twitter account.
For the first time ever, the UK government sent a text message to everyone, and has also launched a WhatsApp information service. 
This is a nice example of Washington Dept for Health comms team feeding social media queries back into FAQs.
Social media channels are working hard to combat misinformation, alongside that, this is a useful guide from First Draft News on fighting misinformation.  The Princess of Wales hospital issued this Facebook post to debunk false information purporting to come from a member of their staff. 
Individuals
Trusted voices and influencers can help organisations to reach a different audience. Dr Fauci, the US director of the National Institute of Allergy and Infectious Diseases, did and live Q and A on the Instagram account of one of the NBA's best known players, Steph Curry. An excellent way to reach a younger audience.  
Richard Walker, the Iceland CEO is doing an excellent job on Twitter, praising staff, updating customers, and responding to questions. 
After putting her daughter to bed, New Zealand prime minister Jacinda Ardern hosted a Facebook live Q&A focused on coronavirus. It's a really well-explained, empathetic look at key questions around a lockdown. 
The UK's Royal Air Force Storytellers are posting about all the different ways they are exercising their bodies and minds while on lockdown in the UK: You can follow them on Twitter
https://twitter.com/laurenyorke8
https://twitter.com/jambobshan
https://twitter.com/Coxy847
https://twitter.com/MortenKathy
and also Instagram: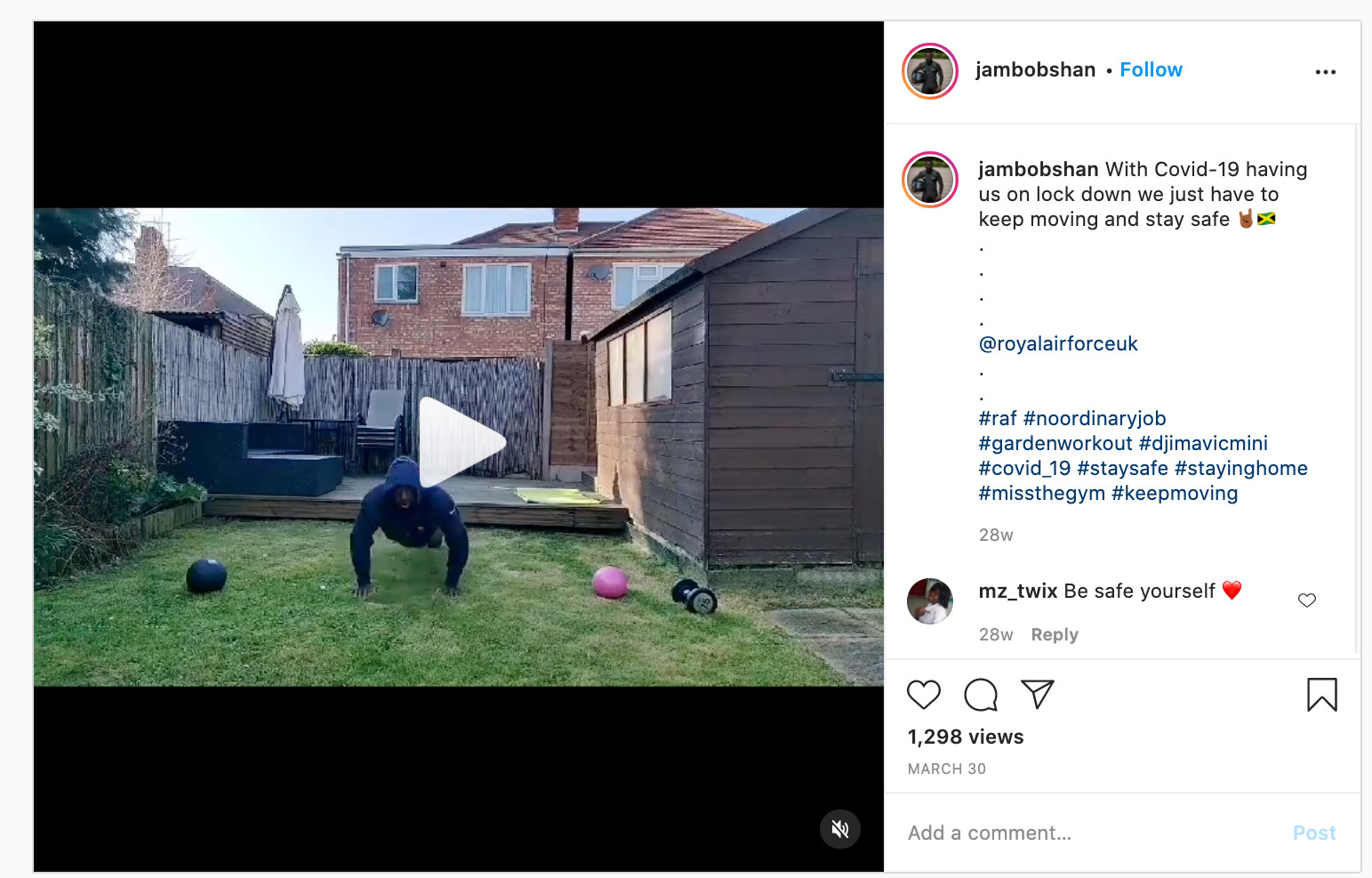 Fun stuff 
Many organisations are doing a good job of factual updates, and jokes and humour might not be appropriate on their accounts. For others, where it's in keeping with their usual style, it's ok and even welcome. Innocent are keeping to their usual tone and style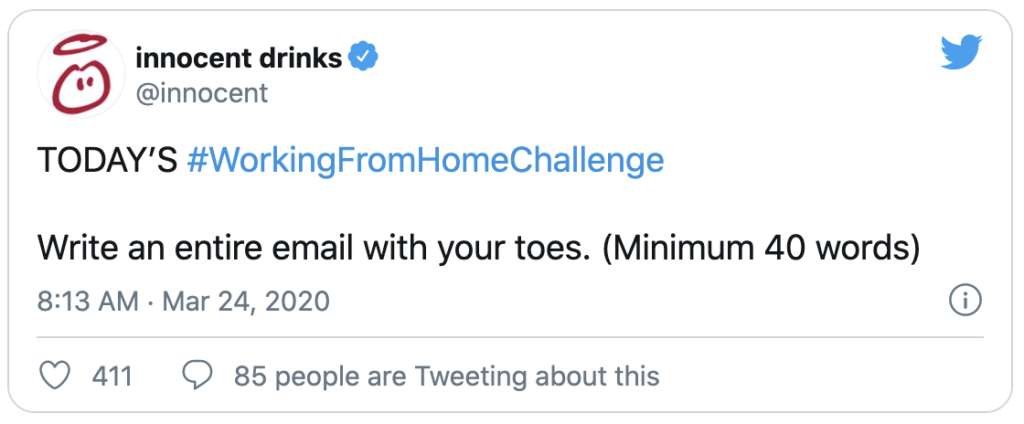 Likewise the language in the image that accompanies this message from the Foo Fighters as they announced the cancellation of their gigs wouldn't be appropriate for a government department, but is perfectly written for their fans.  
Volvo too have made sure their messaging fits their usual tone.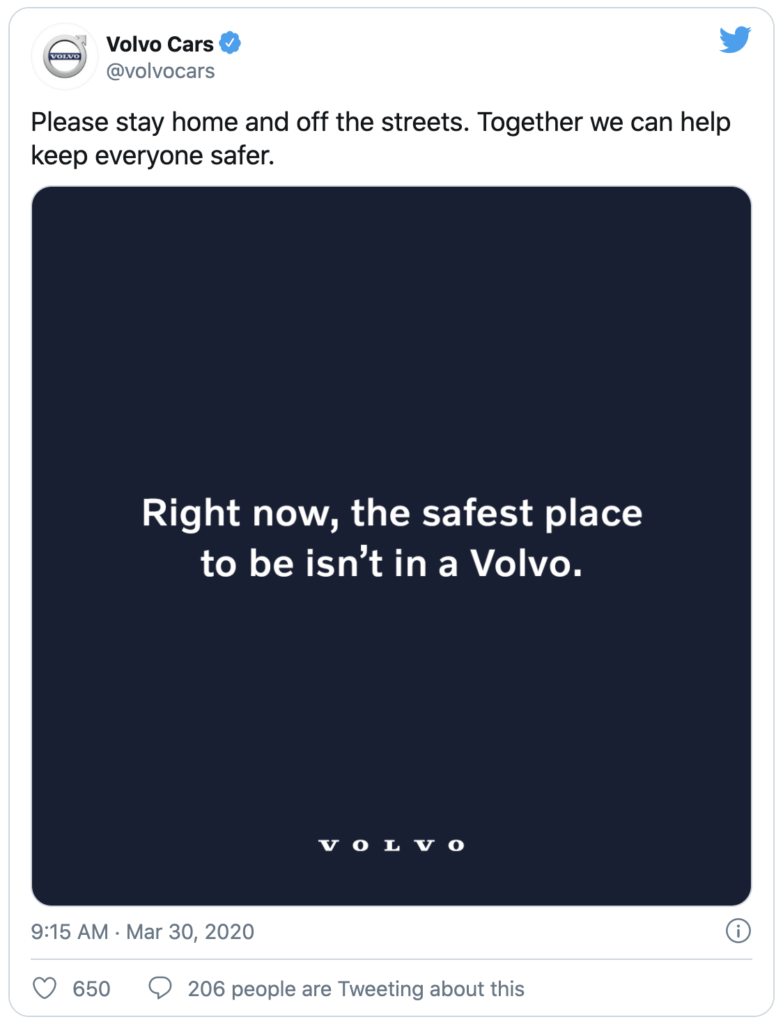 Our resources
If you have any questions about crisis response or any of the links, please get in touch.