In the coming months as coronavirus spreads across our population and seeps into almost every aspect of how we conduct our lives, we'll need to adapt to different ways of conducting how we socialise and communicate with each other, both on a personal level and professionally.
Adapting to changes quickly
Last week within the short space of 72 hours I was faced with this challenge: to adapt to running an IndieWebCamp as a remote-only event.
Previously I'd only participated in IndieWebCamp as an attendee or volunteer but this year I was helping organise one. This was intended to take place at a venue in Central London. Sadly in the same week recorded cases, let alone unrecorded cases, of coronavirus in the UK were rising rapidly from hundreds to thousands of people, including a steady increase in related deaths.
Alongside my fellow organisers we initially looked at screening attendees prior to entry to check if they'd visited other affected areas where the virus had already spread significantly. As the virus began to spread throughout the UK, at its worst in London, we were faced with a very different decision. A couple of days before the event we decided to cancel the venue and run the event remotely.
Communication with attendees
Ensuring we communicated this decision with attendees as soon as possible was a priority given many had travel and hotel bookings. We'd already had a significant number of attendees cancelling their attendance in the week before which I slightly regret now. I feel we might have prevented them cancelling if we'd decided to switch to remote-only earlier on so they could plan ahead with more certainty.
Having a Slack channel for your event or organisation and sharing it with every participant is one way to help quickly communicate with everyone. Not everyone uses Slack so other channels of communication like email and social media are very important. Most if not all our participants had registered through Eventbrite so we had the email address of everyone to contact about the changes.
Running an event remotely
Keeping everyone informed during the event is just as important when running it remotely. For IndieWebCamp we regularly updated the schedule on the website and linked to it on the Slack channel as well as on Twitter. At the start of the schedule we factored in some extra time before the keynotes and sessions began to allow for participants to access the video conference, setup and test their microphone, camera and screen sharing options. This also provided for some virtual mingling and socialising to take place for participants joining the video conference early.
Because of the high level of attendee participation at IndieWebCamp we also self-host the open source, real-time editor Etherpad, this is also available at Wikimedia. Regardless of the software participants have installed locally or cloud-based accounts including Google Docs, the etherpad provides a low-barrier of entry to users, to collaborate on ideas, record notes and other details useful to a session or the overall event. This was particularly useful for introductions so that participants could add themselves to an ordered list in the etherpad if they wished to introduce themselves.
Break times are just as important for a full day remote event so keep these in the schedule to allow participants to take a pause between sessions, get refreshments and go to the toilet. Keeping to time for sessions remains just as important as in any other meeting offline. We had the occasional problem with participants not muting their microphone when not speaking so it's advisable to ask everyone to do this at the start of the event if they're not speaking.
Video conferencing
We used a premium tier account of Zoom for IndieWebCamp. We therefore had three accounts which meant we could offer three simultaneous virtual sessions, tracks or break out areas. We ended up only using one in our case but for bigger events it makes sense to have multiple conference room locations.
Why use Zoom?
At the time of writing Zoom offers many more options to make it more accessible than many other video conferencing tools out there. I think that's an essential requirement for any remote event or meeting so as not to exclude anyone from participating due to their accessibility needs. Zoom accessibility features include closed captioning, automatic transcripts, keyboard accessibility, screen reader support. Read more about Zoom's accessibility features.
Recording video
Furthermore Zoom offers options for both cloud and local storage recording of video. This is not only useful for remote events but for participants to playback the video afterwards if they're unable to attend, even in normal circumstances this is very useful. Be prepared to spend some time editing the recorded video afterwards so that it includes all the necessary information for participants to find and access related content like captions, notes and slides.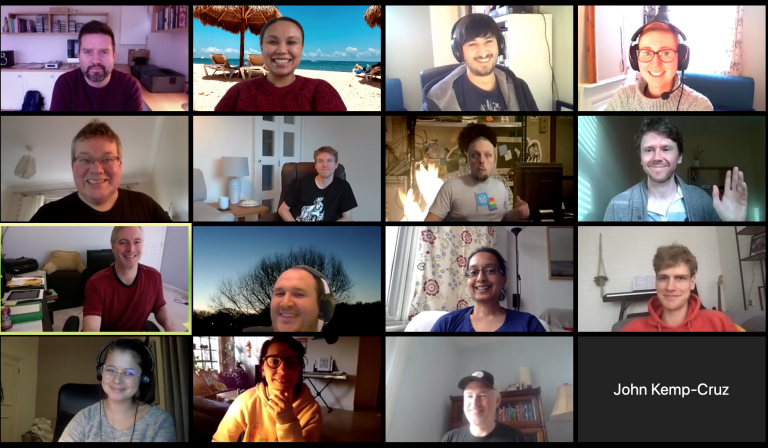 Concluding thoughts
Make no doubt about it: getting through the coming months and maintaining some level of normality will be a challenge whether or not we use technology to help us stay in contact. To help maintain some of this normality, seriously consider organising your own conferences or meetings as online events rather than outright cancelling them. We have a good choice of technology to hand in pretty much all cases to facilitate meetings online, so use it to its maximum capability without fear or resistance to changing circumstances.