Brands large and small, and across all sectors, are making increasingly prominent use of digital channels as part of their promotional marketing campaigns. And so they should: social media offers a direct line of communication with stakeholders not afforded by more traditional channels; allowing more creative and compelling content than previously possible.
That said, no proactive digital campaign takes place in isolation, and a growing library of case studies serve as a reminder of how positive digital campaigns can function as a lightning rod for brands, providing an earthing point for negative sentiment already 'out there' in the ether to find its way to ground, and giving rise to reputation risk in the process.
#McDStories
McDonald's launched a Twitter campaign using the #McDStories hashtag to draw attention to efforts to overhaul its supply chain; with greater emphasis on fresh produce sourced from US farmers.
Rather than offering up some easy positive PR, the campaign instead became a #bashtag for customers to give vent to any McD horror stories they'd been harbouring. Brand experiences including finger nails in food and food poisoning were just some of the 'nuggets' customers decided to share.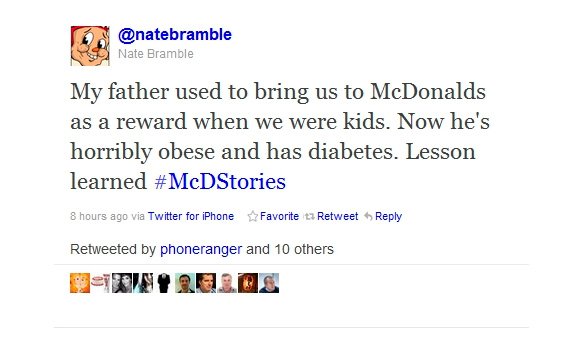 #AskSeaWorld
In an attempt to temper public concerns around animal welfare at Sea World parks triggered by the release of the Blackfish documentary, Sea World ran a campaign involving the #AskSeaWorld hashtag. People were called on to direct any questions regarding animal welfare to Sea World referencing the hashtag, whereupon they would be directed to related policy and information sources.
Rather than diffusing criticism, the campaign only served to add fuel to the fire; providing a platform for negative sentiment and hostility, which became the primary focus of a swathe of related media coverage.
#WaitroseReasons
Although a more humorous example, when Waitrose asked customers to "finish the sentence: 'I shop at Waitrose because …' #WaitroseReasons" it gave license to trolls and jokers alike to heap ridicule on the brand for its upper class image.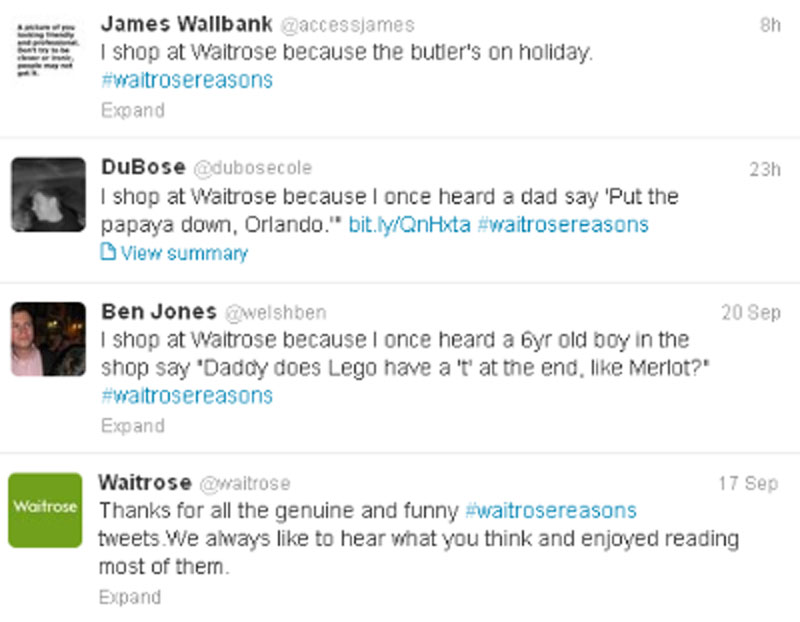 A number of tweets focused on the high prices charged by Waitrose. Faced with the prospect of a positive campaign going wrong, Waitrose responded in the right way, showing that it was able to see the humour in what had happened and not take itself too seriously.
Given that the campaign began in 2012, online jokers (and Waitrose to some degree) are still managing to get mileage out of the #Waitrosereasons hashtag with tweets still appearing on a daily basis.
#racetogether
And the award for the most divisive hashtag campaign goes to… Starbucks. The coffee giant initiated the #racetogether campaign in order to "stimulate conversation, empathy and compassion toward one another", specifically related to the contentious topic of race relations in the US.
This ambitious campaign fell flat, with the majority of patrons and media commentators feeling that their local Starbucks branch wasn't the most appropriate venue in which to engage in a dialogue around such a weighty issue.
Criticism of the coffee house re-surfaced following recent civil unrest in Baltimore.
Dodging lightning – mitigating reputation risk
These examples aren't a reason in themselves to adopt an excessively cautious approach to your social media marketing. Although choosing to pursue certain promotional angles/content as opposed to others is a key judgment required by comms and marketing professionals, social channels should primarily be viewed as an enabler of creative promotional activity. That said, they should always be managed with care…
Switching on the reputation radar
Reputation custodians need to anticipate potential risks and put measures in place to mitigate them during the planning phase of any proactive campaign activity. In-depth scenario planning allows prominent risks to be mapped, and appropriate mitigation measures to be put in place. This could include developing or refining reactive lines in relation to specific legacy issues; as well as ensuring that any relevant policies and online information sources are suitably robust.
Pressure testing strategy and messaging
We are seeing a growing trend in clients undertaking a greater amount of proactive due diligence work during the planning phase for positive campaign activity. Simulations provide an opportunity to replicate the potential negative social media fallout likely to be triggered by a positive campaign; providing a chance to smooth out any rough edges in terms of messaging, tone and overall strategy within a private environment.
Be clear and avoid ambiguity
As illustrated by the cases involving Waitrose and McDonald's in particular, asking people to simply share stories and recollections relating to your brand is asking for trouble. Keep ambiguity to a minimum to help minimize the perceived relevance and, as a result, traction of tweets and comments referencing previous issues. Given the 140 character limit, Twitter lends itself to a more tightly defined call to action for your audience – albeit a public one.
Timing is everything
Just as promotional activity isn't conveniently fenced off from historic issues with which an organisation is associated, the campaigns you run in social media need to be sensitive to the context in which they will be received by the audience. When an incident or major news story breaks, your social media managers should be reviewing any scheduled or promoted activity to avoid reputational clangers. Likewise, there's inherent risk in brands wading into social issues or human stories – think riots, deaths, criminal trials –  where social media provides a ready backchannel for those affected to take offence and mobilise a protest.
Social channels offer a plethora of opportunities, but do not come without risk. However, through a combination of common sense and advance preparation and planning, it is possible to lower those risks to an acceptable level to help ensure that a good campaign doesn't turn bad.