There have been no shortage of crises in 2020, but who has responded well? We've been analysing a wide variety of organisation and individual crisis responses and picked out some highlights . Here is a shortlist of some of the ones we particularly rate and why. But first:
What makes a good crisis response?
There are many elements to a good crisis response and just as each crisis is different so is the appropriate response. But there are some key elements that unite a good response.
People First
This means both the people affected by the crisis and your own people. Look after them both, keep them at the forefront of any decisions and communication and you are well on your way to a good crisis response.
Timely, Accessible, Targeted Communications
Another aspect that is common to good responses is timely, accessible and targeted communication. This doesn't always mean diving head first into a response, take your time to gather the information you need while issuing a holding response, make sure your updates are accessible to all, and ensure you are publishing them where your audience is most likely to access them
Keep going
This year, more than ever, good crisis responses haven't stopped after 24 hours, 48 hours or even a few days or weeks. Cadence is important, be clear about when people can expect your next update and keep communicating throughout the crisis and as things return to normal.
Here are 10 of the Best Crisis Responses of 2020 and what we can learn from them, some Covid related, others not. They aren't ranked in any particular order, but we would love to know what you think and if there's others we should add.
Jacinda Ardern, Prime Minster, New Zealand
Crisis: Covid 19
Response: Facebook Live after putting her daughter to bed
What we like about it: Relatable, uses lots of her own experience as a parent, informal style matched to the channel, but also full of clear factual information about advice and restrictions likely to resonate with her audience.
2. Welsh Government
Crisis: Covid
Response: Daily Covid Press conference broadcast via Facebook Live
What we like about it: Accessible, they have a sign language interpreter and automatically generated subtitles in real time, on a platform that many people are familiar with to maximise the reach of their information.
3. American Red Cross
Crisis: Covid-19
Response: Launching a new TikTok channel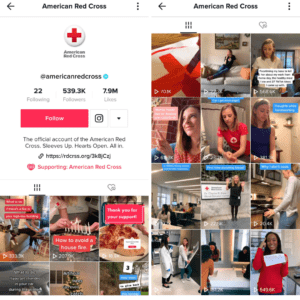 What we like about it: Created appropriate content for channel, succeeded in reaching a new audience, reinforcing safety messages and also sharing information about how to cope with lockdown for young people.  Scientists working on the Covid 19 vaccine have also used TikTok well under #TeamHalo to explain their work to young people and myth bust.
4. AirBNB
Crisis: Covid-19
Response: Blog post on the AirBNB site mirroring information sent directly to staff announcing redundancies situation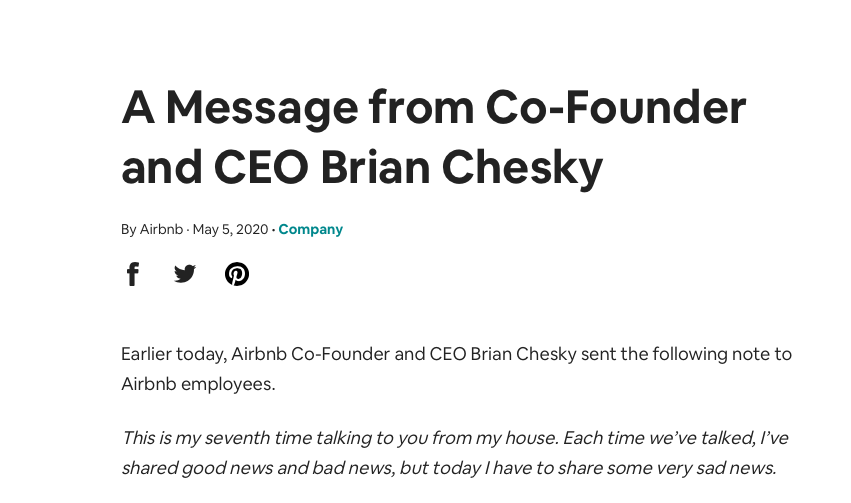 What we liked about it: Honest, detailed, compassionate, clear on where to get further information and what the next steps are. It is also good to see internal comms published externally for transparency. 
5. Emmanuel Faber, Danone
Crisis: Covid-19
Response: Usual frequent updates on Twitter and LinkedIn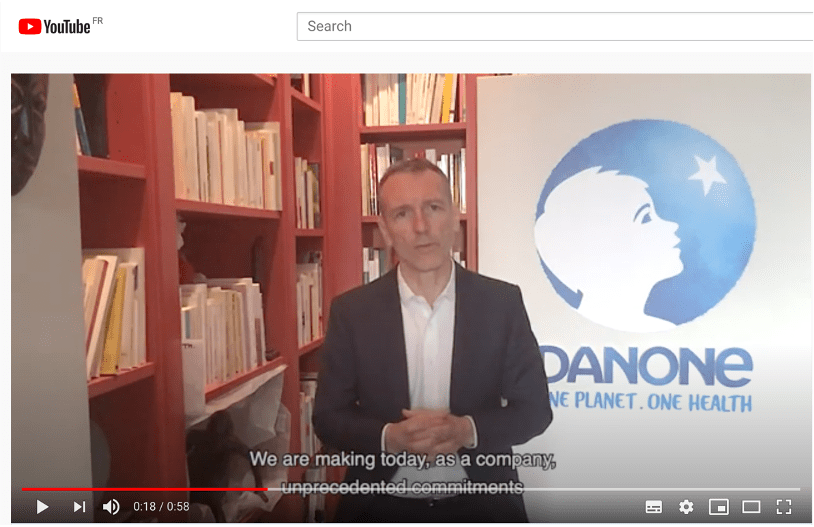 What we liked about it: During COVID-19, he didn't change his habits and continued to relay the company's initiatives on his accounts while also responding to stakeholders' questions as he normally would. He also embodied the company's response to the crisis when announcing exceptional measures on Danone's Youtube account.
6. Exxon Mobil Beaumont
Crisis: Covid-19
Response: Stay at Home #STEM, science lessons via Facebook Live
What we liked about it: It shows empathy for those affected by the crisis, supports their local community, fits in with their overall CSR commitment, and they've done it consistently throughout the year, making science at home topical and fun for example this puking pumpkin for Halloween! Other organisations have done similar things for example Airbus and #AirbusDiscoverAtHome and the Royal Academy with their #DailyDoodle
7. Bank of America
Issue: Black Lives Matter
Response: Allocating $1bn over 4 years to advance racial equality and economic opportunity
What we liked about it: Clear action, not just talking about a commitment but making one, they have also continued to update their audience on progress.
Other organisations making similar demonstrable commitments include AirBNB with their Project Lighthouse, and Netflix adding a permanent Black Lives Matter genre tab to their platform.
8. Network Rail CEO Andrew Haines
Crisis: Stonehaven Train Derailment
Response:
Stonehaven: A statement from Andrew Haines, chief executive, Network Rail. pic.twitter.com/TgL1TZCPmA

— Network Rail (@networkrail) August 13, 2020
What we liked about it: His statement included the three key elements concern, action, and perspective. He also immediately came home from a family holiday to go to the site. Several senior figures from other organisations have been criticised in the past for not doing this. 
9. Ambassador Leigh Turner
Crisis: Vienna Shootings
Response: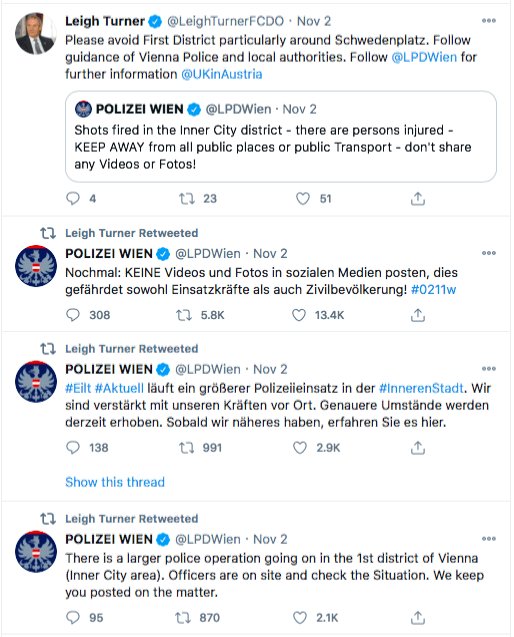 What we liked about it: retweeting official police messages in two languages during the incident, quote tweeting to add emphasis, retweeting key messages from others in his organisation amplifying their updates.
10. Innocent
Problem: Publishing an incorrect phone number
Response:
What we liked about it: By far the least serious crisis on our list was handled with the least serious response, and was therefore completely appropriate. Innocent kept their usual company tone of voice to manage the situation well. 
Are there any you think we should add to the list? Tweet us with your suggestions.
If you have been involved in a crisis response this year and want to evaluate how it went, we have some tips here.
If you would like to be prepared for whatever comes your way in 2021 here is our complete guide to Crisis Communications Planning.