A crisis can begin with one disregarded email from a low-level manufacturing employee and it can be significantly exasperated by a company's lack of existing infrastructure for internal communications; especially if there's a disconnect between management and lower-level employees. Poor internal communications can cause a larger degradation of communications which, in the case of Takata, resulted in the loss of life, a government investigation into negligence and a multi-billion-dollar company going bankrupt.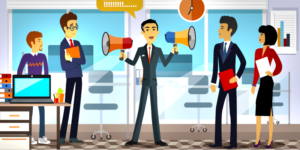 The Takata airbag recall is one of the largest and most widespread recalls to date, with its effects still being felt by car owners all over the United States. Almost 40 million cars were affected by faulty airbag inflators, with almost 50 million inflators having to be replaced, originally, with more Takata airbag inflators that would eventually have to be replaced, again. 21 major car companies were affected by this recall and had to issue massive recalls.
Manufacturers in Mexico noted concerns about the inflators' quality directly to managers and with a lacklustre internal communications infrastructure, concerns about the product were destined to get lost in a seemingly endless chain of command. It's suspected that employees were aware of safety concerns with the inflators up to five years before the company came forward.
Had a company like Takata and the subsequent car companies that were affected by the recall listened to and had existing open and honest lines of communications with their employees, deaths could have been prevented. Internal communications was late to the game with an April 2011 email from a Takata senior vice president to employees noted that "Global safety audits had stopped for financial reasons for last 2 years."
This was three years before the first New York Times article came out with research that corroborated reports that Takata knew of the defects with the airbags for years before filing safety reports with government safety regulators.
Employees' concerns about the state of the faulty inflators were further disregarded when the first recall began. Car companies began replacing faulty inflators with other Takata brand inflators, that were created in the exact same way and had the exact same production issues.
Internal communications must go beyond Email in 2019. The digital landscape is changing every day and people demand factual and informative content, instantly. Companies need to put an emphasis on internal transparency with open, direct, and efficient ways to communicate. While Takata was slow to acknowledge the airbag concerns, they were also negligent when, instead of issuing a recall, they began replacing affected inflators with more faulty inflators.
Companies that communicate frequently and often have higher rates of employee retention. These same companies also report higher levels of employee happiness and are more engaged with their work. Ensure that your employees feel heard and understood with corporate intranet updates, newsletters and more. Some companies have even adopted workplace phone apps that send information and allow employees to communicate internally in an efficient and secure manner.
Analyzing your existing internal communications on a business-as-usual basis is step one for any crisis response plan or exercise. 
Read part 2 of this blog which will analyze the effects that poor internal communications can have on reputation and your employees' ability or inability to proactively and efficiently respond.