Training and exercising needs to be practical, with credible scenarios and practical tasks using realistic digital replicas – press conferences and media interviews are just part of the picture.
A simulation keeps a scenario private and secure, and helps the team learn, trying new approaches or strategies and getting feedback in a supportive environment.
Social Simulator is a hands-on, private digital experience that enables realistic, interactive simulations of social media and corporate channels in a challenging scenario or crisis. It gives your team a practical 'stress test' of your processes and plans, to improve your preparedness.
All the media feeds were extremely realistic and they helped to add the pace and complexity that we would expect from the modern news environment. The real-time and adaptive pseudo media element helped to take our exercise to the next level -- Aviation Sector
Simulate incidents and issues worldwide
Bring highly-realistic situations to life for your team, playing out across the media channels and social media influencers that feel credible in their region and sector
Run virtual or co-located simulations
Virtual, on-site or hybrid exercises: Social Simulator is secure, tried and tested for any type of exercise, integrated smoothly alongside your preferred video conferencing tool
Draw on flexible scenarios and support
Our team can help shape, script and deliver a powerful learning experience for your team, or slot in a scenario you develop and support you to bring it to life
The simulation platform made the exercise run smoothly and mimic events, which was a true test of our teams' ability to respond and perform. Their feedback on our team performance was also extremely constructive -- Energy Client
What is a simulation like?
The Simulator creates an environment that looks, feels and responds like a real world event.
Ahead of time, we work with you to shape a challenging, realistic scenario based on real-world issues/risks, including simulated media reports, emails, calls, social media posts and imagery.
We prepare powerful exercise injects, from green-screen news bulletin videos to mock memes and influencer posts.
On the day, we're generally in teams (physically or virtually together) comprising participants, observers and exercise controllers.
Participants will face incoming social media, phone calls, emails and media articles and need to assign roles and develop an appropriate response.
Simulations typically last around 3 hours with an initial briefing and 'hot' debrief immediately afterwards to capture lessons learned and give feedback.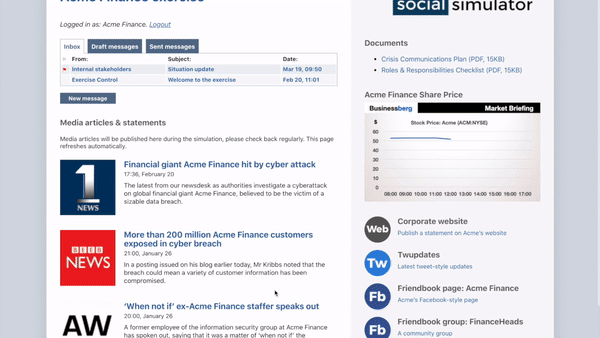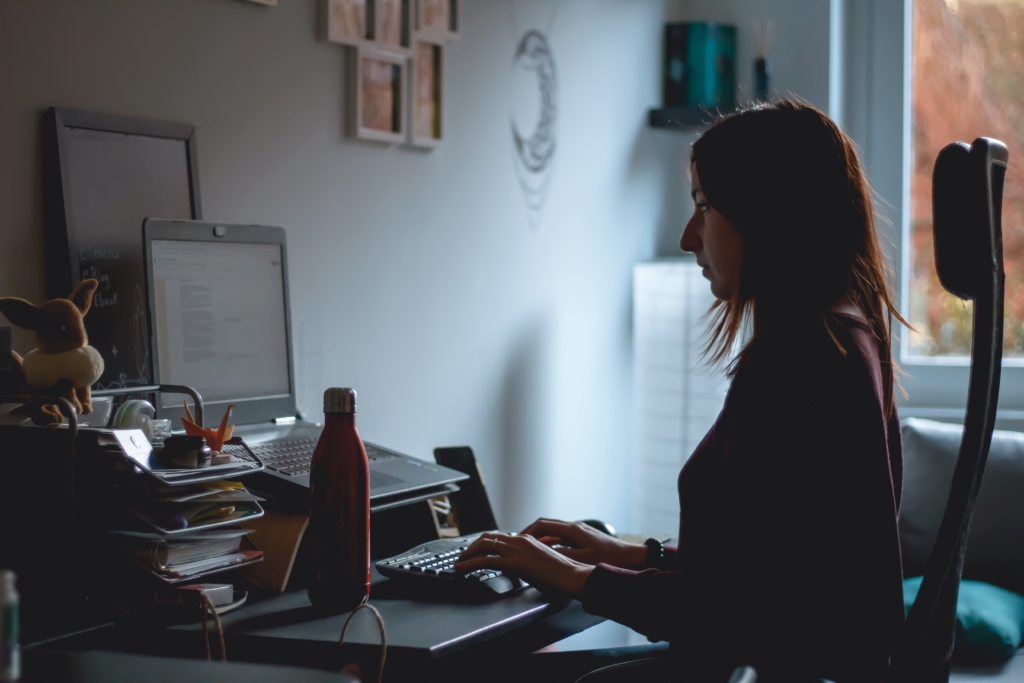 Can crisis simulations work remotely?
Yes – and in many ways, it's more realistic. Participants access the simulator on their own device, while the exercise briefing, crisis management team calls and debrief are run using a video call.
Keep the exercise short and focussed: give participants specific deliverables to complete and scheduled crisis meetings to join
Test the technology ahead of time: we encourage participants to work through our access checklist, and we recommend a dry-run using your preferred video conferencing software ahead of time
Gather feedback smartly: gather post-exercise lessons learned both in a debrief call and secure post-exercise survey on our platform
What kind of scenarios can be simulated?
We support over 150 exercises per year, across all sectors and continents, covering a huge range of issues and incidents:
Cyberattack leading to customer data breach and corporate email loss
Terrorist attacks on a major transport hub
A leaked report spreads anger about a government policy
Reports of malfunctioning prescription medication
Virulent tropical illness forces relocation of company staff to alternative premises
Aircraft crash causing major business continuity issues
Scenarios can be tailor-made or drawn from a library of core scenarios – great for training multiple teams cost-effectively.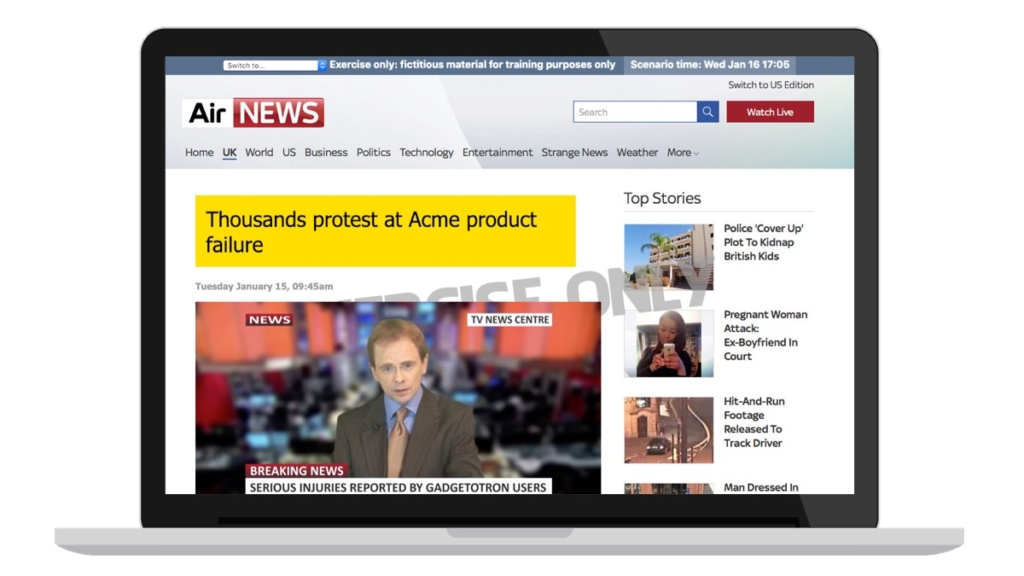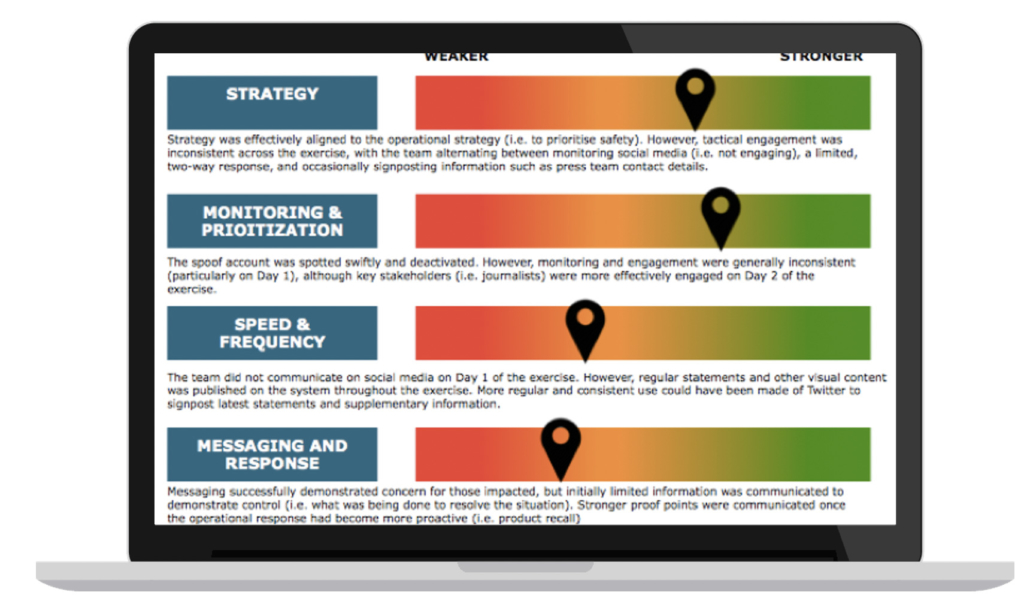 What kind of feedback do participants get?
Typically we have a 'hot debrief' at the end of the exercise to share feedback on strengths and areas for improvement in the team's response.
We provide copies of all the exercise materials and can supplement this with a summary benchmarking report to help you understand gaps and priority areas for further training or angles for subsequent exercises.
Rich social & media replicas
Simulations feel real thanks to our library of over 1,000 media brands and social media replicas of Twitter, Facebook, Instagram, YouTube, LinkedIn, forums, chat and social intranets
Plans, templates and third party tools
Exercises can seamlessly incorporate your crisis plan templates or checklists and work smoothly alongside your in-house tools for collaboration, incident management or messaging
Team email messaging
Individual or team inboxes with attachments make it easy to target injects at different roles in the team - and monitor how the team works without anything going astray
Stock price movement or system status
Simulate movements in share price, departure boards, oil spill trajectories or custom control panels - whatever the team needs to make decisions
'Autopilot' social media pressure
Alongside human roleplayers, our world-leading Autopilot robot keeps up the pressure from customers and critics on social media channels, giving even the strongest customer comms teams a challenge
White label option for agencies
We work with the world's leading communications agencies and management consultancies to help them test their clients' crisis preparedness, under custom branding on a white-label basis
The social media crisis simulation put us under pressure in a realistic way and we learned a great deal about our strengths and weaknesses.  Highly recommended -- Tech Client
How could we help you?
We're happy to set up a demo to show you how Social Simulator works and talk through how it can bring training to life: email [email protected]