One aspect of our work that we really enjoy is coaching trusted voices – digital spokespeople that have the confidence and skills to represent their organisation online.
On International Women's Day we wanted to highlight a few of the many women we think do this really well. Some we have worked with and are proud to have trained. Others we simply admire. 
What they all have in common is an engaging digital presence that gives insight into their role and amplifies the reach and impact of their organisation's updates. They answer questions asked of them, and often seek out conversations they can value to. 
They post consistently with content appropriate for the channel they are using. Many of them share both work related updates and details of their life outside work – but we'd always recommend people only do this at a level they are comfortable with. 
So here are just a few examples, there are plenty more we could have chosen.  Please let us know of any you really admire and we can include them in a future round up.
Instagram
Lucy Nell, Royal Air Force Doctor and Endurance Athlete
View this post on Instagram

Kanya King CBE, CEO and Founder of MOBO
Polly Neate, CEO, Shelter
LinkedIn
Maria Guedez, Senior Upstream Advisor, Exxon Mobil 
Lucy Bogue, Director of Corporate Services at Defence Infrastructure Organisation (DIO) who has also written a blog for International Women's Day.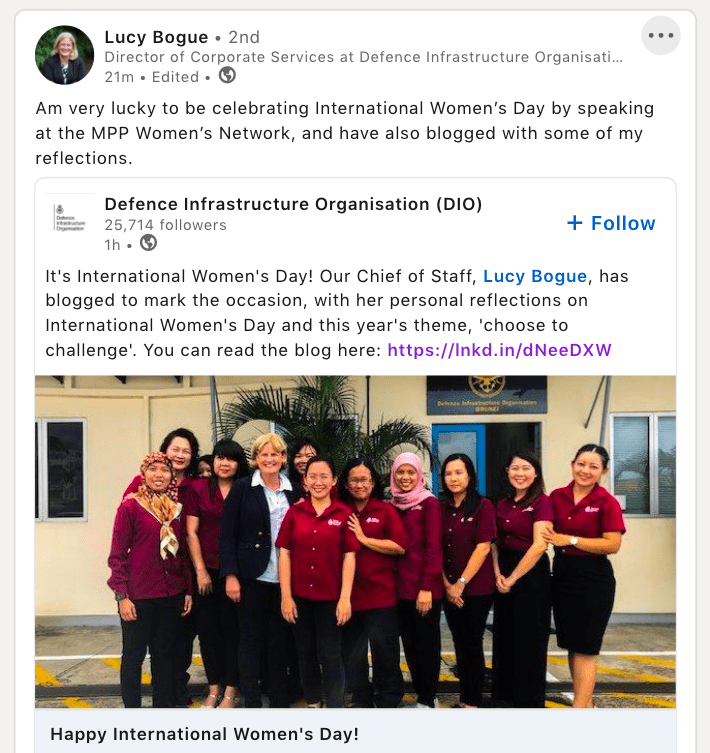 Lisa Pinney, Chief Executive, The Coal Authority
Twitter
Louise Macdonald, CEO Young Scot
Tessy Ojo CBE, CEO, The Diana Award
On this #InternationalWomensDay I want to remind every woman that you are enough. Never allow anyone or self tell you otherwise.

Do all you can to protect your mind. Your mental wellbeing matters ❤

— Tessy Ojo CBE (@Ttall) March 8, 2021
Deborah Lee, Chief Executive, Gloucestershire Hospitals
We also really liked this set of social media templates from International Women's Day, which makes it really easy for groups and organisations to show their support and therefore maximise the reach of the year's campaign.