Supporting your website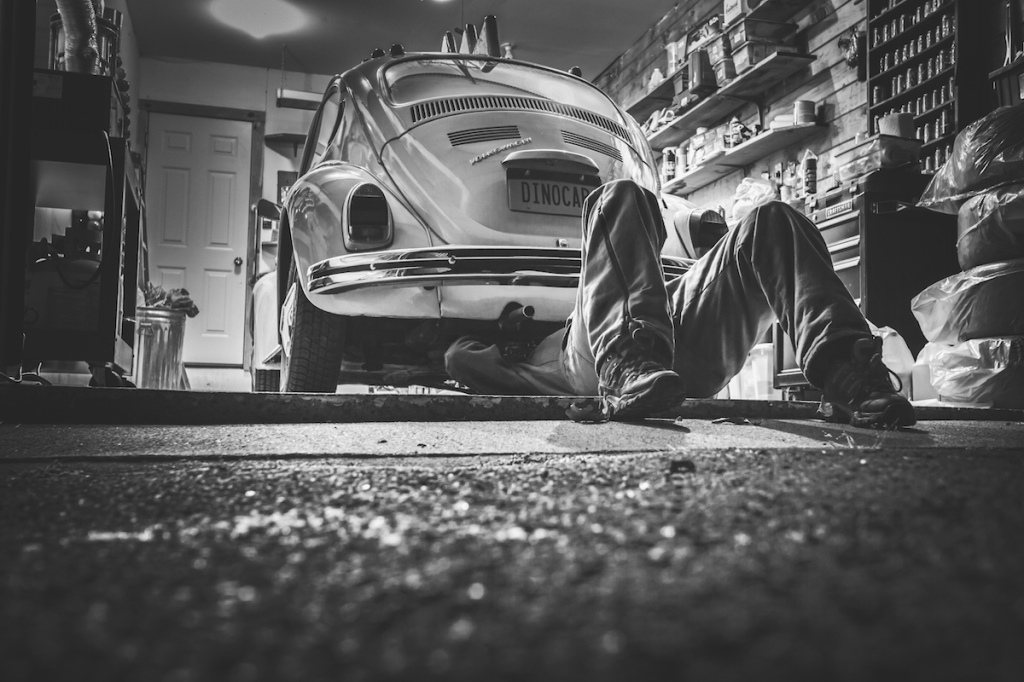 Our team supports dozens of websites on behalf of our clients, keeping them running smoothly and securely and stepping in to sort things out when problems occur. We're also there to help with making small tweaks on request to ensure those websites adapt and improve as the needs of our clients and their users change over months and years.
For most of our clients we provide: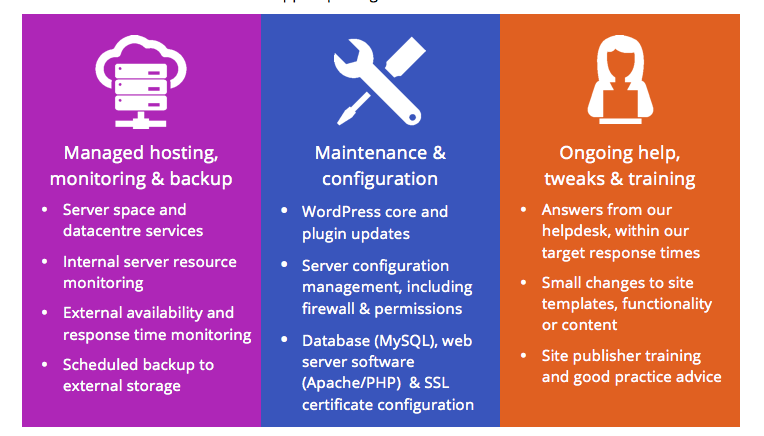 We generally work under a maintenance and support agreement, which establishes a small monthly retainer of time covering:
Helping to ensure WordPress is maintained, updated and monitored to check it is running correctly
Complementing the server monitoring and management services that Bytemark offer with our own third party alerts (Nagios or Pingdom) so we know immediately when problems occur
Maintaining security/resilience, including renewing SSL certificates where used
Providing ad hoc support with template changes, new/updated plugins and styling changes
Providing content publishing support when needed
Training and support for WordPress publishers
Clients on maintenance retainers benefit from a single rate for immediate access to resources that is equivalent to a discount of 25% on our average ad hoc maintenance charges. We invoice quarterly, and within that period we're flexible about exactly when time is called upon – so quiet months can balance out the busier ones in terms of our support to you. If you're consistently using more or less time than you have retained from us, we'll discuss adjusting the retainer with you so it better reflects the help you need.
Most clients find this works well as a way of accessing help when they need it whilst minimising the extra project administration of raising separate purchase orders for each piece of support – and it provides peace of mind that the Helpful team has things covered.
How support works
To request help on your website under a maintenance and support agreement, email our support helpdesk with as much detail as you can provide about the issue
Please indicate in the subject line if the request is urgent (needs addressing ASAP) or normal priority (needs looking at within the next 2 working days) – we'll do our best to ensure urgent problems are dealt with quickly
You'll get an automated acknowledgement of the ticket you've raised, and the Helpful support team will start investigating the ticket
You'll get a reply from the Helpful support team – you can reply to the ticket by email but please ensure you keep the ticket number reference in the subject line, so we can ensure the ticket is routed appropriately
When the issue or question is resolved, the Helpful support team will mark the ticket as closed
Why are you working in this way – can't I just email/call?
We're a small team, and support an increasingly wide number of clients and sites. We want to ensure that all our clients get a good service, and to do that we think we need this structured process for handling support so things don't get lost or delayed. We have a rota system within the Helpful developer team to investigate and handle support queries, so the person who deals with your query may not be the contact you have dealt with previously. Fear not though, we're not offshoring support to a distant land (!) – all support tickets are dealt with by the permanent Helpful team during UK working hours. Hopefully you'll get better, faster and more consistent responses to your queries.
You can certainly call or email (we love to hear from you!) but we'll set up each support request using our helpdesk system so you'll get updates on the request the same way as if you'd raised a ticket using the system above.
Who can I talk to about this?
If you want to discuss support arrangements, please contact Steph on steph@helpfuldigital.com or 020 3012 1024.