Engagement and consultation
Fake news and culture wars aren't all that social media offers: we help organisations pick methods and build platforms to talk to audiences online effectively.
At Helpful and in previous roles, members of our team have helped pioneer digital engagement around campaigns and policymaking.
We've helped bring to life constructive online conversations, campaigns and feedback processes to explain policies, gather and prioritise ideas. We use this experience to coach communicators and leaders to engage audiences online confidently and effectively, maintaining dialogue through blogging, community forums and influencer outreach.
Engagement online can look like lots of different things:
individuals using platforms like Twitter, Instagram or Facebook as part of their professional work
organisations establishing social media channels to interact with stakeholders and customers
making contact with influencers or community forums online, and establishing two-way partnerships with them
getting people to give feedback, leave comments or vote/rate things online using simple digital tools
It involves all of the areas below, but isn't quite covered by any individual element. It's definitely about customer service (answering questions, handling enquiries, providing answers) but it's also about internal comms (helping staff adopt new tools for themselves,  encouraging professionals to share knowledge with their colleagues and stakeholders). It's not just a 'marketing' thing, for sure: in digital engagement, organisations often have relatively little control over the channels and messages being communicated – and done well, digital engagement isn't just something run by a corporate Communications team.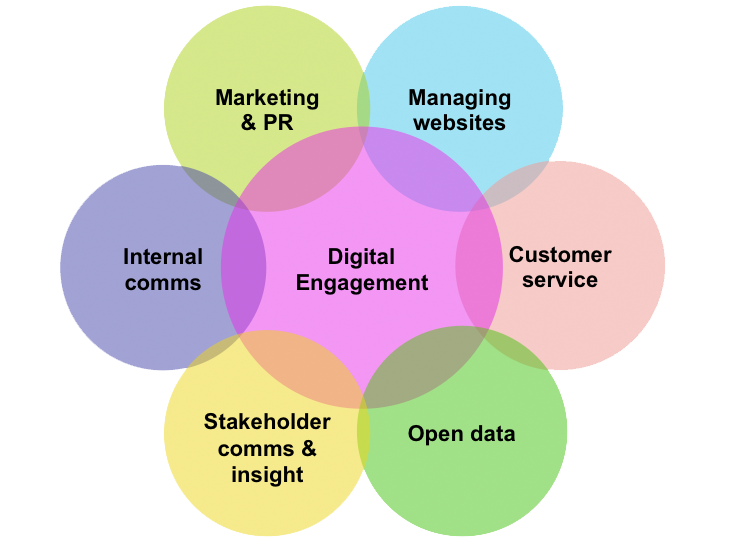 We help with:
mapping audiences online
understanding useful or influential voices
coaching teams in digital outreach skills
planning digital engagement campaigns
integrating digital and social into consultations
making online feedback constructive and manageable
sustaining useful online dialogue
Our work