Digital Action Plan
"The Digital Action Plan has taken me out of my comfort zone" – UK Civil Servant
The Digital Action Plan is our straightforward, personalised learning programme to help teams develop the skills and confidence they need to get the most out of digital.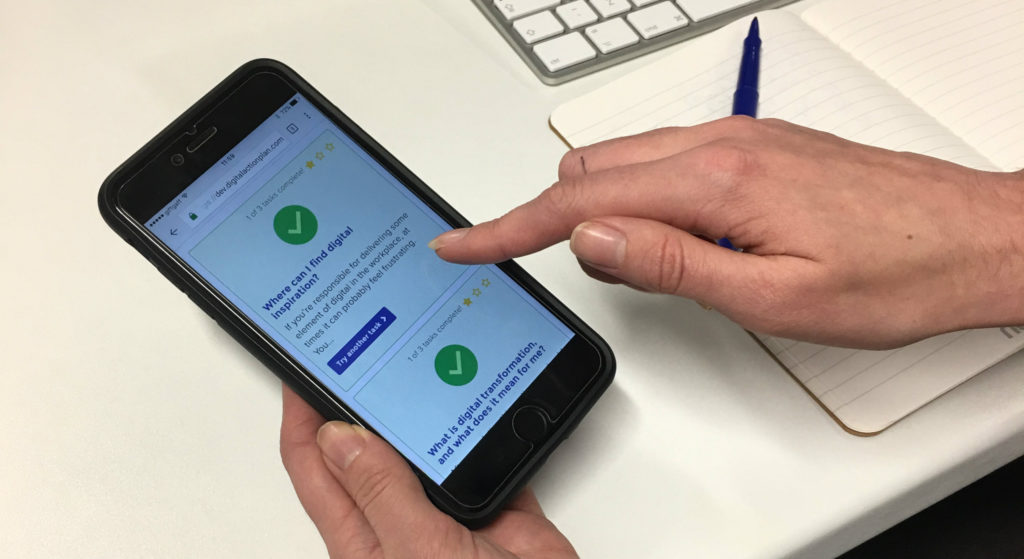 We are a team of people who have grown up with the internet. We've blogged, tweeted and instagrammed our way around the world, helping organisations of all sizes to work out how they can use digital to listen, explain and talk with their audiences.
This might be as simple as running a really effective Twitter account or encouraging staff to share their expertise publicly, through blogging. It can also cover more complex activities, such as developing a digital communications strategy or evaluating the effectiveness of social media campaigns.
Along the way we have learned a lot about, well, learning. Classroom courses and boardroom strategies have their place, but your colleagues need to understand how digital is relevant to them: their careers and the projects they are delivering.
The learning process
People develop their digital skills by learning and doing. We take the best of offline workshops and personal coaching, combined with online active learning modules tailored to the needs of each participant.
Diagnostic tools and workshops
These help identify what's working well and where the challenges lie for teams and individuals.
We use a combination of a private online diagnostic to uncover individual's personal needs, and energetic, purposeful workshops. We pride ourselves on finding the common ground between the needs of staff and organisational objectives.
Personalised Digital Action Plans for groups of staff
Task-based learning exercises and access to expert mentoring to gain confidence and experience using digital.
Nothing beats learning by doing, but we also understand that finding time for learning is one of the greatest challenges to development. Action plans are bite-sized and task-based, allowing participants to read, try and reflect on new ideas whether they have 10 minutes or an hour to spare.
Participants can use the tasks to help with live projects or as a route to building confidence for career planning.
Examples of good practice from different sectors, and experts to support and encourage progress
Action plans integrate with the policies and support available within your own organisation.
Whether you have an established digital strategy or are working to a changing landscape, we can make sure that learning is in tune with your existing programmes.
As well as sign-posting participants to in-house support, our own team of experts are available to provide remote support. This includes refining action plans, providing feedback on tasks and facilitating conversations between participants.
Real-time management information so you can track progress
Measure the impact of your colleagues' investment in digital capability and understand the most common needs across a cohort.
Participants can record what they learn and find useful, and put the time towards personal learning and development targets. They can also download a record of their efforts for internal appraisals, and as a reference tool for future projects.
Cohorts share their experiences with each other in a private forum, and work on tasks together. This is a really useful space to understand common challenges within a team and potential opportunities to improve ways of working and information sharing.
For more competitive cohorts, management information can be made available to the whole group so that everyone can see each others' progress.
Types of participant and eligibility
Our Action Plan teams come from public, private and third sectors, and represent all levels of their organisation. Since 2015 we have:
helped front line staff to develop online monitoring and respond to customer's questions appropriately
taught diplomats to tweet
inspired employees on fast-stream programmes to think more creatively about analytics
brought directors and operational staff together, to review and improve online content
The Digital Action Plan is most effective as part of a formal learning and development program, where participants' effort counts towards their annual objectives and assessment.
Participants don't need to live their lives online. However, they should at least be curious or ambitious about the ways in which digital impacts their role and the audiences they serve.
Digital Action Plans help teams make digital change a reality in their organisation.
To find out more, contact Tim Lloyd on tim@helpfuldigital.com or 020 3012 1024.